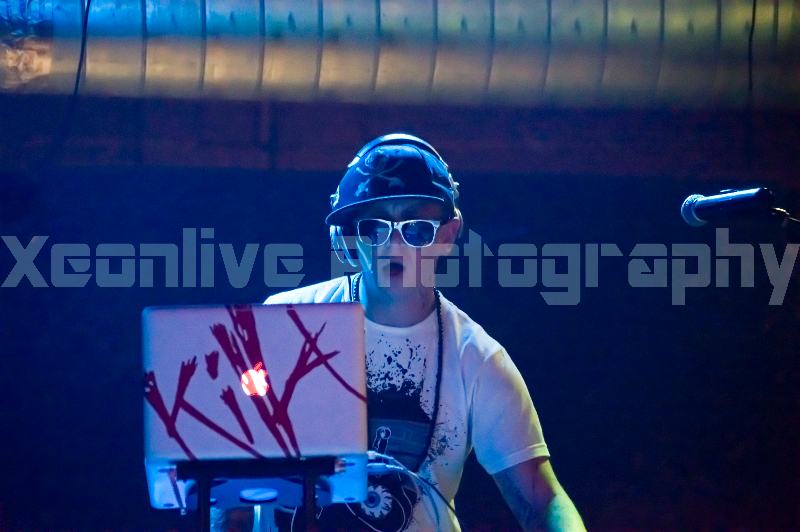 Dj Starscream, Keen, American Head Charge, and Blue Felix
"Miami Vice Soundcrack Tour"
June 16, 2012
Another Hole in the Wall
Steger, IL
Sid Wilson, a.k.a. Dj Starscream, or more commonly known as #0 of the infamous band Slipknot was once again in town, on what was the second to last stop of this tour. The accompanying headlining bands were American Head Charge and Blue Felix. They were offered local support by: Free Ajents, This I Plead, S7nner, DieselTroniks, and Demo.
The Minnesota natives Blue Felix blew the crowd away with their usual bedlam and debauchery. It is always a special treat when they come through on tour since the drummer (A-Lien) was born and raised locally. Front man, Toxsick Tripp always seems to make his way into the rafters above the stage, which of course makes for a very interesting sight. Especially considering that he continues to perform as if he were just standing still. The rest of the band is made up of: Gideon (Bass/Vocals), Y-bot Lockjaw (Keyboards/Samples/Vocals), X-Hail (Guitar), and J. Sinn (Guitar). They played a great set, with hits including: Dryheave, Uncle Scam, and Middle Finger Up.
A freshly reunited American Head Charge was also a large part of Sid Wilson's Miami Vice Soundcrack Tour. Since reuniting in late 2011, they have maintained their original lineup consisting of: Cameron Heacock (Vocals), Chad Hanks (Bass), Karma Cheema (Guitar), Justin Fowler (Keyboards), Christopher Emery (Drums), in addition to adding former Ministry and Lords of Acid member Sin Quirin (Guitars) in place of deceased guitarist Bryan Ottoson. The band treated their fans to a variety of their hits including Just So You Know, Loyalty, Seamless, and their brand new single Sugars of Someday. Lead singer Cameron Heacock was seemingly inspired by Blue Felix singer, Toxsick Tripp, so much that he also felt the need to perform hanging upside down from the rafters. Toxsick Tripp even made a cameo and joined Cameron in the rafters. With a newly revitalized fan base growing by the day and a new album in the works, American Head Charge shows no signs of slowing down.
This was a very special tour for Sid Wilson, as he is about to embark on Slipknot's first U.S. tour since band member Paul Gray passed away in 2010. Sid's alter ego, Dj Starscream was in full effect as he annihilated the turntables. He was accompanied vocally by Amy Yanick a.k.a. Thekeenone; who has a feisty and fierce manner on the microphone which beautifully complemented the smooth flow of Sid's rhymes. Jamazz is typically a part of the entourage, however just before the end of the tour he was injured and had to return home early. The duo did great considering their third counterpart was missing from their normal routine, but it was not the same without Jamazz nonetheless. The two wrapped up a fantastic evening full of diverse performances leaving the crowd more than happy. As usual they always stay afterwards to take pictures and give autographs to the fans. If you find yourself at Mayhem Festival this year be sure to look for Sid Wilson on the side stages. We heard he will be performing solo off and on all day leading up to Slipknot's set. Also spread the word that the Official Sid Wilson After Party is at Another Hole in the Wall, in Steger, IL on July 21. 2012. Below is a link to the Facebook event page that provides further details.
Check all of them out on Facebook for the latest band updates and tour information.
https://www.facebook.com/sidthe3rd
https://www.sidthe3rd.com
https://www.facebook.com/AmericanHeadCharge
https://www.headcharge.com
https://www.facebook.com/BlueFelixOFFICIAL
https://www.myspace.com/BlueFelix