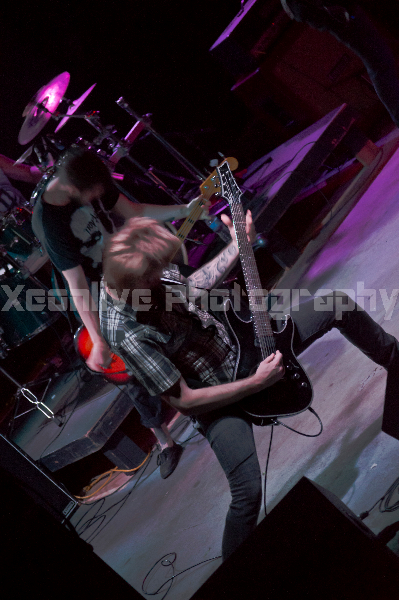 Idols/To the Wind
July 01, 2012
Another Hole in the Wall
Steger, IL
The Eastbound And Down Tour made its way to Another Hole In The Wall this Sunday. The tour brought Seattle, Washington hardcore band To the Wind and deathcore band Idols to the venue. Local support for the tour included Monolith, Axeptor, and Unkown Zodiac. Both Idols and To the Wind have been extremely busy on a nationwide tour supporting their latest ep's. Their recent travels have brought them to as far as New York throughout their tour and both bands have been steadily increasing their fan bases along the way.

To the Wind took the stage first after the local acts finished up. Their melodic hardcore sound combined with the band's intense energy and constant movement gave the crowd an intense and upbeat performance. To the Wind's current lineup consists of: Tanner Murphy – vocals, Ryan Murphy – guitar and backup vocals, Matt Farage – guitar, Gordon McPherson – bass, and Cory Lamb – drums. The band was promoting their latest ep "No More Than This" performing tracks off the release such as "Close To Nothing", "In Regret", and "To Those Before Me". The band was extremely social and did not hesitate to engage with fans the moment they were done loading up their equipment which is always splendid for fans in attendance. A great way for the band to end a solid and energetic performance.
Deathcore rockers Idols finished off the evening taking the stage by force from the moment their set began. Their intense and dark sound is reminiscent of Cannibal Corpse back in their prime. Fans were treated a short and sweet, no nonsense set that was nothing but intense from the start of it. Idols played their fan favorites such as "Made Of Plastic", "Illusions", and "In The Silence". Idols current members consist of: Jay Lutgen – vocals, Orion Swift – guitar, Ian MacWilliams – guitar, Jordan Nygard – bass, and Daniel Matson – drums. The band has been heavily active on their cross country tour with To The Wind giving every performance their all and networking heavily with their new found fans, not hesitating to socialize with them before and after their set. The Eastbound And Down Tour was heading to Wisconsin as its next stop and then making its way back towards California with plenty of stops in between, be sure to check it out.
https://www.facebook.com/idolsmetal
https://www.facebook.com/tothewindnw