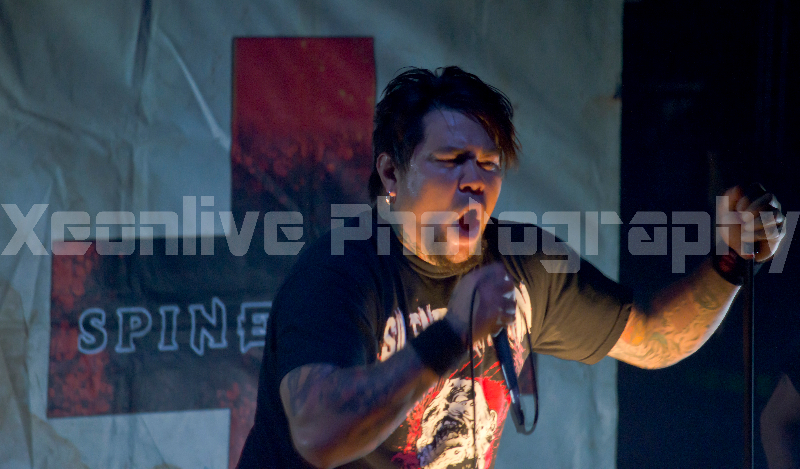 Spineshank/9 Electric/Mureau Review
June 27, 2012
Another Hole in the Wall
Steger, IL
The Los Angeles metal scene was in full force this Wednesday evening at Another Hole In The Wall in Steger, Illinois. L.A. metal veterans Spineshank were on tour promoting their brand new release "Anger, Denial, Acceptance" on Century Media while bringing electric metal entertainers 9 Electric, and Mediaskare Record's Mureau ,who were promoting their debut album "Rumors and Reputations", along for the tour also. Local support for the evening included Oculus, Wicked Deception, Dank, and Atomize. The lineup brought an extremely diverse blend of what the current L.A. Metal scene has to offer, mixed with the local scene, and it certainly did not disappoint. The eccentric mix of musical styles brought a night full of heavy variety leaving the crowd banging their heads throughout the evening.
Mureau brought their Thousand Oaks, California metalcore party rock sound to the stage after the local support finished up for the evening. Mureau's lineup consists of: Taylor Voeltz – vocals, Jonny Harter – guitar, Lanny Perelman – guitar, John Atkinson – bass, and Ian Corabi – drums. Ian happens to be the son of John Corabi, a former Motley Crue vocalist and Ratt guitarist. The band put on an extremely heavy and energetic set while immensely engaging with the crowd. The band did an excellent job at promoting their debut album "Rumors and Reputations" through Mediaskare Records, and also gained plenty of new fans within the Chicago land area.
Hollywood California's 9 Electric took the stage next bringing their own projector and stage lighting as they provide an extremely energetic, upbeat, and visually entertaining live performance. To define the band's sound as electronic metal is a bit of an understatement as they combine electronic, dubstep, industrial, metal, and punk sounds into one. Add in custom animated visualizations in synch with the music, and a barrage of custom lights and you are seemingly guaranteed one hell of a live show. 9 Electric's lineup consists of: Thunderwood – vocals, M.Lopez – guitars, CaseyDC – bass, and Micah Electric – Drums and Programming. An eccentric group to say the least, that certainly puts on a crowd captivating performance everywhere they go. They were promoting their newest single "Filthy" and their fan favorite anthem"Destroy As You Go" throughout the tour. With just being picked up as a supporting act on Static X's "Noise Revolution Tour 2012″ 9 Electric has a bright path ahead of them.
Closing the evening out were Los Angeles metal veterans Spineshank. Their brand new album "Anger, Denial, Acceptance" was freshly released on June 19, 2012 through Century Media. This album has been long overdue for Spineshank fans that have been waiting patiently for the past nine years and kept their faith in the band through the departure and eventual reunion of front man Jonny Santos. Nonetheless it has been well worth the wait and Spineshank is back with a vengeance consisting of their original lineup: Jonny Santos – vocals, Mike Sarkisyan – guitar, Rob Garcia – bass and backup vocals, and Tommy Decker – drums. Their live set screamed intensity through the members intense harmony and rhythm together as if the band had never lost a step since their inception in 1996. Their set included classics such as "Synthetic", "New Disease", and "Smothered" along with plenty of hits from their new album including the single "Nothing Left For Me". The fans were treated to a variety of songs which spanned over a decade of Spineshank.
Overall, Mureau, 9 Electric, and Spineshank all put on great performances in their own regards making for an extremely diverse and entertaining evening bringing the L.A. scene to Steger for the night. Mureau and 9 Electric could be found throughout the venue after their performance's signing autographs, taking photos, and chatting with the diligent fans who remained throughout the evening. Definitely a superb way of giving back to the people supporting you and something the fans will certainly remember for a lifetime. Be on the lookout for all three of these bands in the upcoming future as they all put on a great set and show no signs of slowing down anytime soon.
https://www.facebook.com/spineshank
https://www.facebook.com/9ElectricFB
https://www.facebook.com/mureaumusic