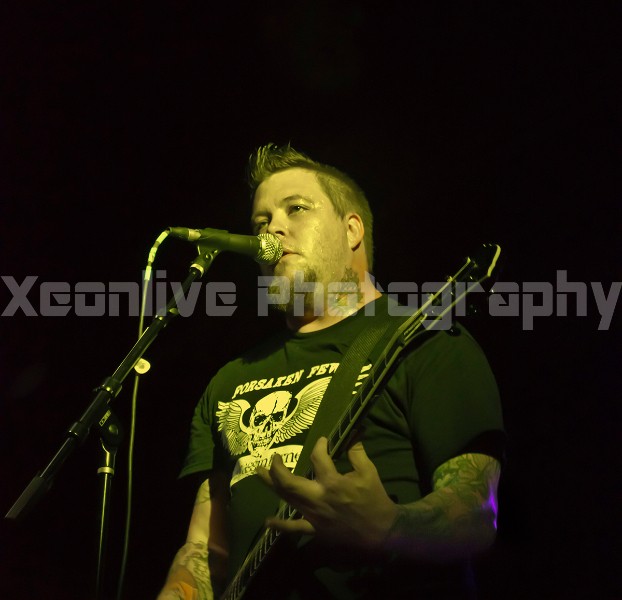 12 Stones/Blameshift/Digital Summer/Throwing Gravity

July 26, 2012
Another Hole in the Wall
Steger, IL
Louisiana rockers 12 Stones came through Another Hole In The Wall in Steger, IL this past Thursday evening on tour supporting their latest release "Beneath The Scars".  They brought a trio of supporting acts with them including Blameshift, Digital Summer, and Throwing Gravity to put on a splendid evening of music.  Local support for the evening was provided by S7nner, Awaken, and Any Last Words.  Once the local acts had finished up for the evening Nashville, Tennessee rockers Throwing Gravity took the stage.
Throwing Gravity is on tour in support of their latest release titled "It's Not The End".  The band put on a short, yet upbeat performance consisting of their hits.  The band consists of: Nick James – lead vocals and rhythm guitar, Adam Gooch – lead guitar and vocals, Sam Hindmarsh – bass and vocals, Chris Scott – keys and programming, and Eric Bice – drums and vocals.  The band received a last minute notice that they had been voted to play on Warped Tour in Atlanta, GA the day of their performance here.  The band chose to remain on tour rather than disrupt their current schedule and take off to Atlanta for a day.
Next up on the stage were Phoenix, Arizona modern rock band Digital Summer.  The band has their newest album, "Breaking Point", releasing within the next two weeks on August 7, 2012.  The band has been heavily promoting their upcoming release playing select tracks throughout the tour.  A few lucky fans even received free t-shirts as the band tossed a few out into the crowd while promoting "Breaking Point".  The band members all sync together very well feeding off  of one anothers energies putting on an extremely energetic and well rehearsed performance.  The band consists of: Kyle Winterstein – vocals, Ian Winterstein – guitar, John Stephenson – guitar, Anthony Hernandez – bass, and Ben Anderson – drums.  Be on the lookout for Digital Summer's new album, "Breaking Point", releasing August 7, 2012 as it promises to be a smooth and solid blend of heavy and melodic instrumentals combined with raw and emotional vocals truly capturing the band's unique sound and style.
Long Island, New York's Blameshift was next to take the stage.  They are an unsigned band, by choice, which has made quite a big name for themselves over the past few years.  Through releasing their fan funded ep, "The Black Rose", as a free download in exchange for a Facebook "Like", the band gained the attention of many large scale corporate sponsors.  Soon enough the band had over 75 music media outlets supporting their release including Taco Bell, Hot Topic, and Sullen Clothing.  Blameshift put on an extremely lively performance with all members actively engaging the crowd throughout their entire set.  The band's smooth rhythmic blend of upbeat rhythms and piercing vocals provided the crowd with a dynamic performance.  Blameshift's lineup consists of: Jenny Mann – vocals, Tim Barbour – guitar and vocals, Vince Monticciolo – bass, and Nathan Saake – drums.  The bands dedication and nonstop tour schedule has definitely began to pay off with MTV featuring two of their songs on The Real World along with their hit single "Ghost" being used in part of a montage for "Call of Duty" on the web receiving over 1.5 million views.  Expect their new album to be released sometime late 2012 as they are putting the final touches on things.
The evening's headliners, 12 Stones, took the stage next to close out the evening.  The Louisiana based group orchestrated this tour to support their newest album, "Beneath The Scars", which was released on May 22, 2012.  The band put on an extremely melodic performance playing hits that spanned across their four album discography giving the fans a little bit of everything.  12 Stones have experienced a large amount of success on a mainstream level over the past few years.  Their songs have been featured on The Scorpion King and Elektra movie soundtracks as well as being extensively used on WWE Wrestling.  The band's lineup consists of: Paul McCoy – vocals and rhythm guitar, Eric Weaver – lead guitar, Will Reed – bass, and Aaron Gainer – drums.  12 Stones seems more motivated than ever due to "Beneath The Scars" being their first release on their new label, Executive Music Group.  They will be continuing on tour promoting their new release through the end of August all across the country.
All the night's bands put on a top notch performance bringing their own unique styles of music to the venue.  As a true of showing of how loyal and grateful these bands are for their fans, all of the members could be found wandering throughout the venue at any point in the evening.  Band members did not hesitate to interact with fans, posing for pictures, signing autographs, and truly just showing that they are normal people also when it comes down to it.  These simple gestures from the band members certainly created lifelong memories for many of their fans in attendance.  Overall a well rounded night of performances was given by all the bands.  Follow each band's links below to keep up to date with their latest news and tour dates.
https://www.facebook.com/12stones
https://www.facebook.com/blameshift
https://www.facebook.com/DigitalSummerBand
http://www.throwinggravitymusic.com/