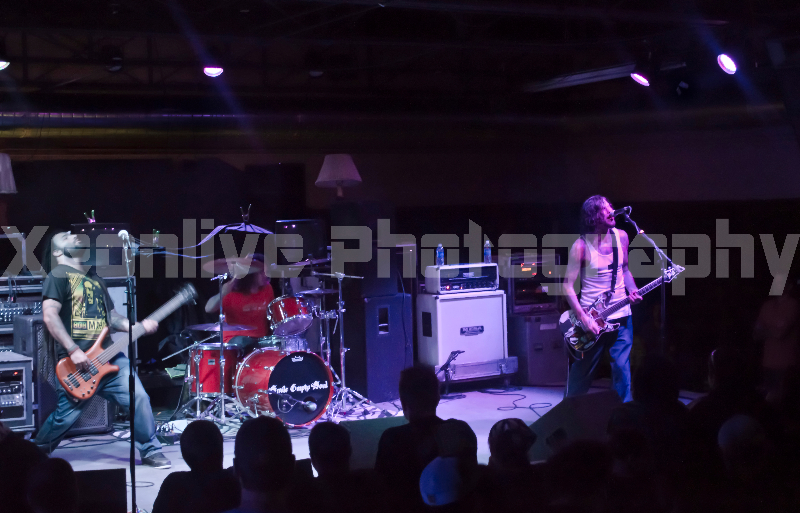 Taproot/Smile Empty Soul

August 03, 2012
Another Hole In The Wall
Steger, IL

Michigan rock group Taproot came back to Another Hole In The Wall in Steger, IL this past Friday evening.  California's Smile Empty Soul were also along as co-headliners on the tour.  Cleveland, Ohio rock band Concordia were also on the tour as the opening act, but had to cancel their performance for the evening due to a band member's illness.  Local support was given by Imperial Sons, Eyes On Backwards, Lights Out Vegas, and Thrudge.  There was a rather large crowd for the event ranging in ages from children to older adults.  The turnout definitely reflects the diverse amount of fans these bands have, and every last one of them were extremely excited for the show.
Once the local acts had finished up for the night, Santa Clarita, California natives Smile Empty Soul took the stage.  They have been together and released multiple albums since 1998.  The band is on tour promoting their latest album release "3's" on eOne Music that came out on May 22, 2012.  Speaking with the band about the album title and how it came to be was a pretty interesting story.  "We all just started having things happen in our lives' in groups of three" said front man Sean Danielsen.  "It would be the most random things, but they all started standing out" said bass player Ryan Martin.  Drummer Jake Kilmer added "We all turned 30 while making the album also".  Smile Empty Soul played a varied set with the first half consisting of material off of their prior albums.  The crowd did not hesitate to sing along on fan favorites such as "Bottom of a Bottle"; especially when Danielsen would let the crowd takeover singing duties on the chorus.
The fans were thrilled with the band's performance.  Speaking with the band after the show they sound more motivated than ever to keep moving forward in their careers.  The band spoke about their ordeal with Lava Records back in 2005 when asked.  Danielsen went on to explain that the label basically told them they were not going to be releasing the album, titled "Anxiety".  The band was crushed as they had spent the past year putting their heart and soul into the entire album just to be told it was never going to be released.  Immediately after this the band encouraged fans to buy a limited number of burned copies they had of the album or to download through a bittorrent site.  "We ultimately just wanted the fans that wanted to hear the music be able to hear it" said Danielsen.  Ultimately the band went on to record an entirely new album titled "Vultures" that they released in 2006 through Bieler Bros Records.  It was not until 2009 that "Anxiety" became available on Itunes available for purchase to the general public.
Smile Empty Soul has developed a large fan base over their many years of performing as a band.  One of their most notable characteristics as a band is that they stay true to their musical tastes and style.  They are not influenced and swayed by the latest trends over the years.  Many bands that gained popularity from the same time period as them have flip-flopped their sound, images, and everything else that "someone else" tells them to do.  Smile Empty Soul has done just the opposite throughout their career.  They have stayed true to the music they believe in making, and their fans love them for it.  In regards to any future plans the band said that they will be embarking on a new , yet to be announced, tour in the fall with some yet to be named bands accompanying them.  The band encourages everyone to "Go buy 3's" and to visit and like their Facebook page for latest band news and tour updates.
Next on stage were Michigan co-headliners Taproot.  All night long the band's tour props consisting of old projection style TV's and lamp made a staggered wall lining the back of the stage leaving many confused.  Once the lights went out and Skrillex's "First of the Year" came on, the crowd erupted into screams.  The band ran out onto the stage as the TV's displayed static and lamps illuminated, if nothing more answering the question of many as to whether or not that junk even worked.  Taproot is on tour promoting their newest release "The Episodes" that came out April 10, 2012 on Victory Records.  This is the band's second album on Victory now, and they seem to be quite happy with them as their label.  Taproot's lineup consists of Stephen Richards – vocals and guitar, Mike Dewolf – guitar, Philip Lipscomb – bass, and Nick Fredell – drums.
The band was nonstop the moment they began playing.  Lead singer Stephen Richards could be found thrashing about all over the stage, and pounding on his body randomly with his fist, all while maintaining his smooth and graceful composure on the microphone.  Taproot as a whole put on a very active live performance.  All of the members use wireless setups giving them the freedom to roam about the stage however they please with no regards for tangling or disconnecting cables.  Sure, anyone can go purchase a wireless setup, and many bands have, but Taproot put theirs to great use when it comes to their live show.  Their fans went wild as the band played a diverse set list containing hits from their six studio albums.
Overall a great night was seemingly had by all.  A minor altercation occurred due to a rowdy patron, who may have had one to many, but was quickly broken up leaving the patron out the door.  No one was hurt and the show carried on.  Both Taproot and Smile Empty Soul have been performing on a national level for over ten years now.  Their sounds, styles, and stage presences symbolized that for certain.  Both bands are on tour promoting their newest releases, and have every intention of releasing many more albums in the future.  Keep up to date with their latest updates and tour info through the links below.
www.facebook.com/smileemptysoulmusic