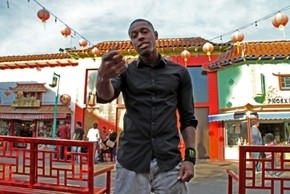 Gangsta rock artist Hyro da Hero just finished a full summer on the Van's Warped Tour promoting his major label debut Birth, School, Work, Death on Stereo Bang Records.  Hyro has been traveling across the country spreading his fresh sounding infusion of hip hop and rock to the unsuspecting masses.  Before heading off to Japan to perform on a major festival with Green Day, Rihanna, and others, Hyro was kind enough to answer a few questions for us.  Read on to learn more about Hyro da Hero, his music, and what he is about.
Name of Artist/Band?
Hyro: Hyro da Hero, I'm a rock star without a guitar.
How did you get your band name? Does it have any significance? Have you changed the band's name before?
Hyro: They call me Hyro for short and Hero because I'm here to save the world from weak rappers and bands.
What was it like when you were just starting to go see (or play) shows as teenagers? What venues/ basements/ garages/ shitholes-in-the-wall particularly stick out? Give us a picture of the music scene that you were a part of when you were young?
Hyro: It was tough and fun at the same time.  I used to burn copies of my mixtape one by one to pass out for free.  I stayed on Myspace 24/7 sending messages and adding friends so they can spread the word on my tracks.  Any talent show that came, me and my crew were at.  It feels great to be where I'm at now because I've worked so hard, and I don't plan on stopping that.
What are your favorite and least favorite venues to perform at?
Hyro: I just love performing.  I want to spread my music to the people no matter where it's at.  I will rock the spot no matter what.
How does it feel to have Jonathan Davis supporting your new release and calling it his album of the year?
Hyro: Incredible, it feels great to gain the respect of such a legendary artist.  The whole band has been very supportive of what I do.  It's truly a dream come true.
Ross Robinson is notoriously known for pushing artists to the edge to go to lengths they couldn't have reached without him; without his expertise and guidance do you think your album would have been everything you had hoped and dreamed for?
Hyro: I've always wanted to work with Ross. When I got the chance it was def worth it.  I told him exactly how I wanted to sound and he put the pieces of the puzzle together.  He got Mark and Cody from Blood Brothers, Paul from At The Drive Inn, and Daniel from Idiot Pilot.  The experience was amazing.  He pulled my thoughts out of my head and put it onto record.
What do you like to do when you are not making music?
Hyro: Play basketball.  Staying active is great for creativity.  Keeps you focused mentally and spiritually.  The same way Bob Marley loved soccer is how I love basketball.
How would you describe your music to people?
Hyro: Pure energy.  A loud gunshot to wake up the sleeping giants out here.
How was your experience while being on Van's Warped Tour 2012?
Hyro: It was a fun time.  I gained a lot of fans and met cool members of bands.  It's like a small family and I was glad to be part of it.
What are your hopes/plans for the near future?
Hyro: Spreading my gospel of gangsta rock to the masses via touring. Converting people to the religion of real music.
Is there anyone you'd like to acknowledge or thank, or any last words?
Hyro: Birth, School, Work, Death.
http://www.facebook.com/HyroDaHero
http://www.twitter.com/HyroDaHero