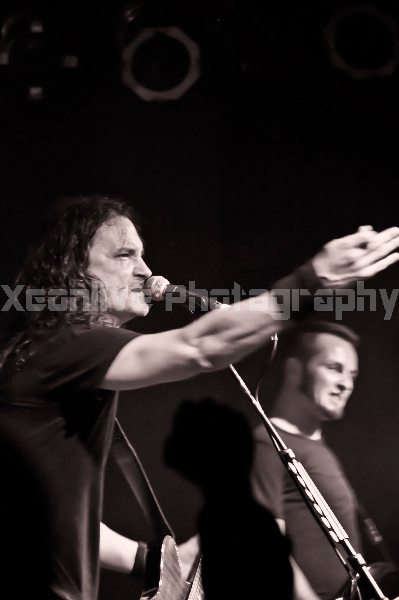 Gojira/Car Bomb
August 16, 2012
Bottom Lounge
Chicago, IL
World renowned French heavy metal quartet Gojira scheduled a small east coast and Midwest tour due to their late summer tour with Lamb of God being rescheduled because of Randy Blythe's temporary incarceration in Prague.  Gojira brought their technical and rhythmic blend of metal to the Bottom Lounge in Chicago, Illinois on Thursday, August 16.  Long Island, New York metal band Car Bomb was with as opening support on this short tour.  Although the Summer Slaughter Tour was happening nearby on this same day, there was still an extremely large turn out.  Plenty of fans were more than happy to stay out late on a Thursday night to catch this diverse and unique metal act performing within such a small setting.  It is not often that the opportunity presents itself to see such a high caliber band performing within such a small and intimate venue compared to the size of the venues they normally perform at.  It was a one of a kind and rare performance to say the least.
Starting the night off was Long Island, New York's Car Bomb, whom the crowd certainly seemed to enjoy.  Car Bomb has a unique sound that is both technical and experimental.  The band put on a very lively performance to the crowd's delight.  The band certainly acquired many new fans with their performance this evening as many people headed directly to the group's merchandise table the moment their set was done.  Car bomb's lineup consists of: Michael Dafferner – vocals, Greg Kubacki – guitar, Jon Modell – bass, and Elliot Hoffman – drums.  The band is extremely meticulous when it comes to their music, and they do not hesitate to analyze every split second of each song until they are completely satisfied with its outcome.  Car Bomb's unique sound was a good musical pairing with the evening's headliners, Gojira, as they provided a great warm up for the crowd.
By the time Car Bomb had finished performing, the venue was filled with eager Gojira fans anxiously awaiting their performance.  Once the lights went dim, screams erupted as the band took to the stage.  The entire crowd soon began to head bang in sync with the band.  Much like the fictional character Godzilla wreaked havoc upon Japan; Gojira assaulted the crowd with their rhythmic infusion of extremely diverse, melodic, technical, and progressive blend of music.  Lead singer and rhythm guitarist Joe Duplantier's screams and growls wailed throughout the venue as fans screamed for more.  The entire band was extremely active in engaging the crowd during their entire performance.  Gojira provided fans a mixture of both old and new songs for their set which did not disappoint.  Gojira's lineup consists of: Joe Duplantier – vocals and rhythm guitar, Christian Andreu – lead guitar, Jean-Michel Labadie – bass, and Mario Duplantier – drums.  Given that the band typically does not follow the standard song pattern and structure, their music keeps the crowd constantly active and intrigued.  There was hair flying everywhere in both the crowd and on stage as heads were banging nonstop throughout Gojira's entire performance.
Gojira are on tour promoting their latest release, "L'Enfant Sauvage" which came out on June 26, 2012 on Roadrunner Records.  Gojira is extremely well known for their interests and concerns in regards to nature and the earth.  Their lyrics, along with song and album titles, have been their way of spreading their beliefs and concerns for the world.  With each album, Gojira seems to have evolved into a more unique and refined band.  Their newest release is no exception as its central focus deals with life and its many questions in regards to freedom.  In an era when many bands do not have any substance or serious meaning behind their music, Gojira certainly defy what is considered to be the norm.
The band is continuing to make their own path through the music world with zero regard for any current styles or trends that are popular.  Instead, Gojira are producing incredibly unique instrumentals combined with extremely symbolic and meaningful lyrics to help promote their beliefs, and hopefully open up the rest of the world's eyes to what to an environmental decline that has been occurring for many generations now.  Be on the lookout for Gojira to be releasing an ep titled "The Sea Sheperd" in the near future.  All proceeds from the ep will be donated to The Sea Sheperd Anti-whaling Organization.  The four song ep will feature a different guest vocalist on each track.  If all goes well and according to plan, then "The Sea Sheperd" should be available before the end of the year.  Follow the links below to stay up to date with the bands latest news, releases, and touring information.
https://www.facebook.com/CarBomb
https://www.facebook.com/GojiraMusic