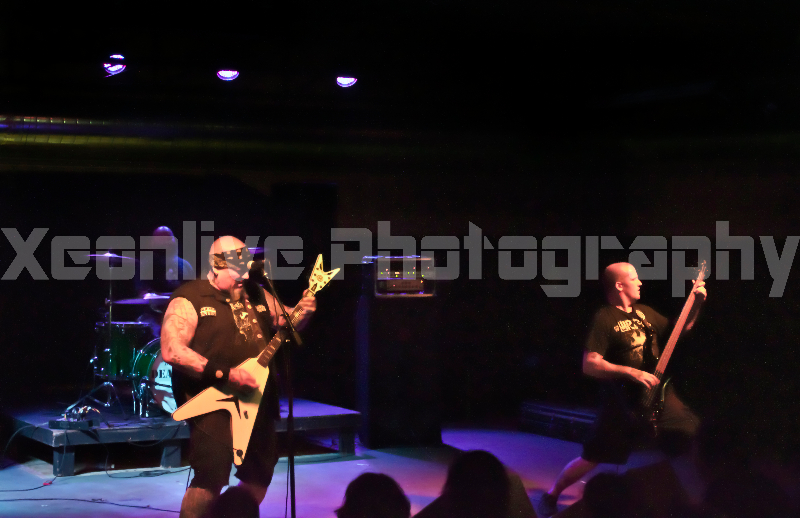 The Toledo, Ohio based metal trio Mobile Deathcamp brought their ruthless assault of thrash metal to Another Hole In The Wall in Steger, Ill. this past Friday evening.  The band is fronted by former GWAR bass player Todd Evans.  Evans went by the stage name "Beefcake the Mighty" and was adorned in fake Roman armor during his time performing with GWAR.  With Mobile Deathcamp as his band now, Evans takes over the duties of both vocals and guitar these days.  Bassist Boe Skadeland is an absolute madman on the bass as well as his on stage performance and energy.  Solid rhythms were provided by Dave Martin on the drums; on a side note, he happens to resemble a slimmer version of actor Sid Haig.
Local performance for the evening was provided by Axeptor, Awaken The Grave, Crypitc Oath, Overbeast, and Entropy.  Mobile Deathcamp took the stage after the local acts had finished for the evening.  Once the band starts playing, it is nothing but a nonstop harmonious assault of thrash metal.  The band played many tracks from their latest album "Clear and Present Anger" while also performing plenty of new, unreleased material throughout their set.  The entire group has a nonstop energy amongst themselves once they take the stage together that truly captivates any crowd.
Mobile Deathcamp's members have all played in a multitude of bands over the years prior to this one.  While watching one of their live shows it is clearly obvious that these guys are three heavy metal veterans that are playing their hearts out, while having the time of their lives.  It does not matter what the size of the crowd is, Mobile Deathcamp is going to jam like there is no tomorrow.  Lead singer and guitarist Todd Evans was kind enough to do an interview before the band's set.  Read on to learn more about Mobile Deathcamp and their front man Todd Evans.  Also be sure to pick up "Clear and Present Anger" and check out Mobile Deathcamp for a refreshing dose of thrash and speed metal.
What inspired the name Mobile Deathcamp?
Todd:  Mobile Deathcamp the name was inspired by the Earth.  The Earth is mobile it spins and rolls around through space at about 8 billion miles per hour, or maybe it's 4 thousand miles per hour, I don't know what it is, but it's mobile.  So as the Earth spins around it is mobile and all we seem to do is kill each other on it.  It's a death camp while it's mobile.  It's a Mobile Deathcamp; which is the cerebral answer.  The other answer is I don't know man it just kind of sounded cool and metal (Holds up horns as he says it).  Especially now, the world is coming unglued.  One dude makes a f*cked up movie… In the Muslim world, correct me if I'm wrong, I'm not the authority on anything, so in the Muslim world pretty much Muhammad is the one guy, the one being, that they say please don't mess with Muhammad ever.  One person on a planet of 8 billion people and the first person anyone goes to screw with is Muhammad.  I do not agree with that they should leave him alone.  Everyone should leave everyone else's religions alone.  If God is love, love doesn't equate to war to me.  So, wow what a way to start off a metal interview.
How was it being in a band like GWAR for so long and playing bass then shifting gears and changing your focus to Mobile Deathcamp while also switching back to playing guitar? 
Todd:  I never stopped playing guitar when I was with GWAR, which was for like 6 years, although it felt like thirty.  It was cool, I've been playing guitar for almost thirty years, that's how old I am.  Well, older than that, you understand what I mean.  So I've always played guitar and GWAR just contacted me one day saying "You would fit the character great.  You're a big, beasty dude and we know you're a guitar player, but we think you're way more than competent to play bass".  I was like f*ck yeah, I'll play the triangle for GWAR.  I had always been a huge GWAR fan so I said yeah I'll do it.  The whole time through I had been playing guitar then to stay up on the chops and stuff.  Speed metal has always been my very first love since I heard Hell Awaits in 1985 at a friend of mines house.  I was like holy sh*t what is this?  I'm scarred for life; this is what I have to do forever.  Now here I am at Another Hole In The Wall in picturesque Steger, IL.  A little side note on Steger, IL, did you know this town was actually named after a 70's rock gang from Detroit, Bob Stieger?  Silver Bullet? (Laughter)  Maybe not, okay anyways…
Clear and Present Anger came out about a year ago, have you guys been working on new material at all or do you have any future plans?
Todd:  (Scoffs) Pardon my pssh.  That was directed towards the label that has done nothing about that record since it has came out.  Big promises about tons of ads, we're going to do magazine things, we're going to push it in Europe, and we're going to get you guys to Europe, blah, blah, blah.  None of it ever happened.  Then the guy has the gall to tell me "Yeah we're really surprised the album didn't do as well as we thought it would."  I was like yeah, uh-huh it's the old adage "If nobody knows, nobody goes."  Even when the records out, you still have to go well hey here it is, take a look at it.  It's a solid record man, we really dig it.  Our plan was to have another label swoop in and pick up the record.  There really isn't many copies of it out there.  We've done a bunch of touring though.  We're looking for a solid booking agent, solid label, solid management, and just a solid team behind us.  I've done as much as I can do to get us to this point, and now it's time for real professionals to step in and do something.  To answer your question yes we are working on new stuff.  We're going to play a couple new songs tonight, a few of them actually.  I'm constantly writing.  It's inevitable, I sit around with my guitar maybe 5, 6, or 7 hours a day because I have no friends, but inevitably you're going to accidentally come across something where you go hey that's kind of cool, let me try that again.  I don't have recording capabilities so I transcribe into my own type of hieroglyphics.  I've refined them from when I first started doing it they were just lines, x's, note names, and stuff.  I would go back initially like oh man what did that say; I don't even know what that means.  Little notes that might say do this in an upbeat poppy move, and at the time I'm like well yeah I'll know what I'm talking about, well no doesn't come back.  My hieroglyphics now have become much easier for me to recall on.  I don't need a translator now to figure out the sh*t that I'm writing to myself that nobody even knows about.
Do you have any other hobbies besides when you aren't making music?
Todd:  If I'm not making music I like to play my guitar (Laughter).  I'm a big fan of my bicycle.  I have my mountain bike that I like to roll around in parks with.  I started riding BMX back when I was thirteen years old roughly back in 1975.  Back then BMX wasn't even really out yet.  My friend and I would put on his brother's motorcycle boots, goggles, helmets, and stuff.  We'd go riding on these treacherous tracks we built in the woods then and his brother and friends would all be laughing at us saying "You think you guys are on motorcycles, ha, ha, ha."  Then we'd come back all bruised, beat, and bloody.   They would say "Geez what are you guys doing back there?"  We're like we're racing man.  Just a few years later BMX pushed into our area with tracks, and at that time you didn't have to wear any helmets, gear, or anything like that.  A lot of the bikes weren't made for it either.  They were just old stripped down and basic Schwinns, or whatever could be found.  I was always a big dude and never really got any higher than a 4th place finish.  We used to beef up our bikes as best as we could and then drop them off a tree house to see how strong they were.  Stupid man, we were stupid.  It blew up though, now it's in the Olympics.  I totally dig it.  I mean I still just ride my bicycle, I just breeze around.  I definitely dig in though.  That's where I get my cardio.
Any last words to your fans, or anyone you'd like to acknowledge?
Todd:  I'd like to say thank you to the Dean Guitar Company for always being so kind to me and keeping me with amazing guitars. We're close to Randall Amplifiers, they're in Mundelein.  They have always been amazing to me also.  Words for anyone starting up, quit now and get a real f*cking job. (Laughter)  Otherwise you'll be 50 years old eyeballing all of your possessions in a 5×10 storage unit. (Laughter)  I appreciate the interview though man, thank you very much.  Also www.mobiledeathcamp.net if anybody out there gives a rat's ass to check us out online and sign up for our mailing list to stay on top of everything you want to know about your new, favorite speed metal band.