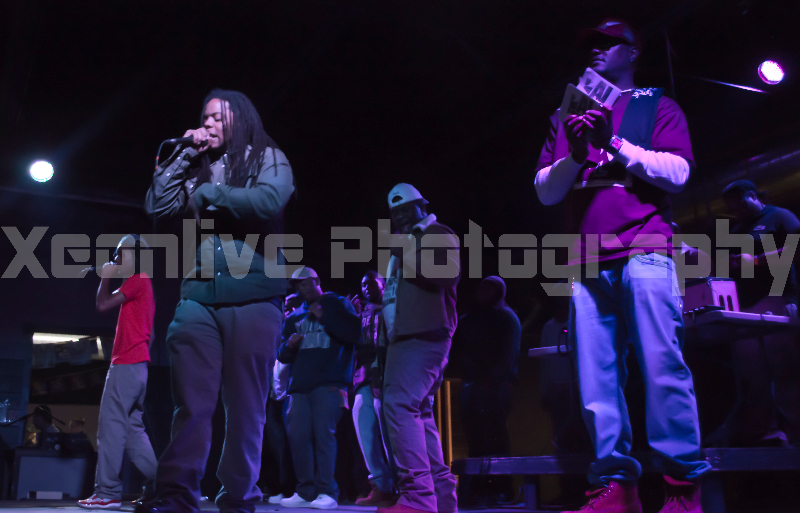 Notorious Chicago rap sensation King Louie came to Another Hole In The Wall in Steger, Illinois this past Saturday evening.  A variety of local artists performed throughout the night.  Once King Louie and his entourage took the stage, the crowd went nuts.  Louie's crisp rhymes and beats echoed throughout the venue rattling the entire building.  Heavy Southern influences mixed with his Chicago roots give King Louie a unique and defining sound that certainly appeals to a wide range of fans.
King Louie's performance was short and sweet to say the least.  Louie wasted no time unleashing on the mic from the moment he stepped on stage.  Even a Dj malfunction that temporarily stopped Louie's beats was not enough to stop his rhymes.  Despite only performing a handful of songs, which included hits such as "Too Cool" and "Val Venis", Louie left the fans with their jaws dropped and screaming for more.  King Louie gave a brief interview before he took to the stage.  Louie speaks briefly on his history, upcoming material, and more.  With recently signing a deal with Epic Records, King Louie is one of Chicago's biggest rappers taking the city by storm.
How did you get the name King Louie?
Louie:  One of my guys gave it to me.  His name Keese, he's locked up.  Free Keese!
Who were some of your biggest influences growing up?
Louie:  2Pac was a big influence, DMX, and Master P.
How do you go about writing your songs?  Do you write things randomly?
Louie:  Yeah, when they come to me, and sometimes I'll just go to the studio and write.
What do you think of the current Chicago rap scene these days?
Louie:  It's awesome.  It's pretty much long overdue, that's what I think.  I think this sh*t supposed to been happening.
Is there a release date for "Dope & Shrimp", any future plans or new material coming up soon?
Louie:  No release date on it yet.  Look out for "Drilluminati" the mixtape coming soon.  "Showtime" you can download that on LiveMixtape.com an iTunes.  Also download "Val Venis" single off iTunes.
Anyone you want to thank or acknowledge?
Louie:  I just want to thank God.
https://www.facebook.com/KingLMusic