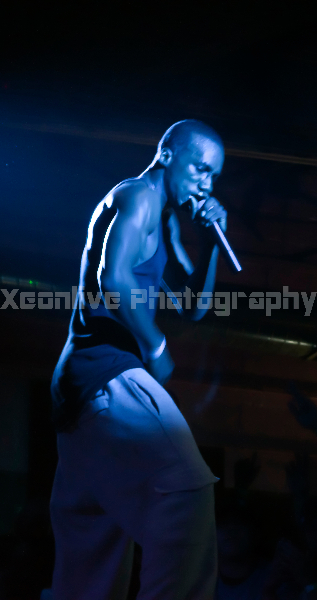 Hopsin:  The Funk Volume Tour
October 7, 2012
Another Hole In The Wall
Steger, IL
Los Angeles, California rapper Hopsin brought his Funk Volume Tour to Another Hole In The Wall in Steger, Illinois this past Sunday.  The tour consisted of Hopsin, SwizZz, Dizzy Wright, Dj Hoppa, and Jarren Benton.  A plethora of eager fans lined up halfway around the venue before the doors had even opened.  Hopsin and his crew bring a unique style to rap music with their custom beats which are made in-house and lyrics that resemble anything but those of typical rappers.  After a brief stint with Ruthless Records, Hopsin decided to do things his own way.  Soon after Funk Volume came to life and Hopsin found himself performing all over the world.
Another Hole In The Wall was certainly jam packed with a wide variety of fans all anxiously waiting for Hopsin to take the stage.  The fans went wild as Hopsin took the stage.  Almost immediately, many patrons rapped along lyric for lyric.  Shortly after being on stage, Hopsin was extremely bothered by camera flashes and the extremely close proximity to the stage of his meet and greet fans that he demanded security clear the entire front of the stage.  Security quickly cleared the area and Hopsin began moving monitors away from the edge of the stage making way for his notoriously known stage dives and edge of the stage performance.
Sure enough Hopsin dove into the crowd as fans scrambled to get their hands on him.  The mass wave of fans passed him around the entire perimeter of the crowd while he continued rapping with his microphone in hand, never missing a word throughout the entire experience.    SwizZz also jumped on stage with Hopsin during the set, performing multiple songs side by side.  Fans were treated to a unique and one of a kind performance at this stop on the Funk Volume Tour.  Be on the lookout for big things happening with the Funk Volume crew as they have multiple albums set release in the coming months and plenty more upcoming performances that are sure to be one of a kind.