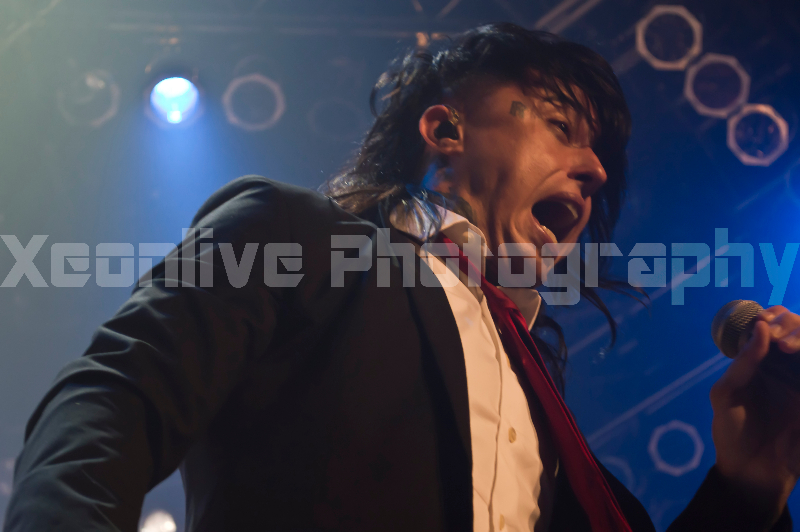 Falling In Reverse's "The Thug In Me Is You Tour"
made its way to the
House of Blues
in Chicago, Illinois on 10-22-12.  The tour included a stellar lineup consisting of
letlive
,
I See Stars
, and
Enter Shikari
as the supporting bands for
Falling In Reverse
.  Despite the rainy weather, and that it was Monday evening, the venue was jam packed for a sold out performance.  With an all star ensemble of bands performing together, the show was guaranteed to be a great one.  Many different styles of music were heard throughout the evening from blood curdling screams to dubstep interludes and freestyles.  Needless to say the show was nonstop action from the moment it began.
Los Angeles, California post-hardcore group letlive got the evening's festivities started.  Since signing with Epitaph Records in 2011, letlive has been gaining a plethora of fans worldwide.  Their live performance truly portrays the band's energy and emotion that they put into writing songs.  Whether it is lead singer Jason Aalon Butler leaping off a massive stack of monitors, or any members of the group wildly flailing about, the band never seems to stop moving.  letlive's spontaneous stage show certainly reflects well upon the fact that they do not have any planned antics.  Instead it is 5 guys who are just purely letting loose and doing whatever they feel at the moment.  One thing is certain, and that is letlive will without a doubt put on a wild and intense performance sure to entertain.
Showmanship was in full effect as Warren, Michigan's I See Stars took the stage next.  I See Stars came out hard and fast, wasting very little time from the moment they took the stage.  The band brings a very unique infusion of musical styles ranging from headbanging hardcore one minute, to freestyle rapping over a dubstep beat the next.  I See Stars are known for their heavy mixture of hardcore music combined with dubstep, electronica, and other digital styles.  The crowd seemed to transform into a rave at times when I See Stars would kick in some heavy electronic beats in between and during songs.  The venue floor basically became a trampoline as patrons jumped up and down nonstop to the beats.  With nonstop dance moves across risers at the front of the stage, I See Stars put on an extremely entertaining performance leaving the crowd screaming for more.  Vocalist Devin Oliver's leaping stage dive into the crowd sent fans into a chaotic frenzy as they swarmed from every angle to try and get a hand on him.  At one point the band asked the fans to crowd surf their way to the front so they could shake hands, while also putting the security that lined the stage to good work.  Countless bodies began to crowd surf their way to the stage where many excited fans did get to shake hands as they were being removed from the area; some fans were pulled out and then right back on top of the crowd making their way to the front again.  I See Stars put on excellent performance with their infusion of hardcore and electronic music backed up with their high energy stage show.
U.K. natives Enter Shikari took the stage next to an extremely amped up crowd.  Enter Shikari has an extremely unique musical style that combines various aspects of hardcore and metal along with some electronica thrown in the mix.  The end result is unique infusion of many varieties of music wrapped up into some great songs.  The highlight of Enter Shikari was without a doubt their constant stage diving into the crowd.  Other than their drummer, every member of the band dove into the crowd multiple times both with and without their instruments.  Fans went berserk scrambling all over the place as band members would fling themselves into the crowd without warning.  Front man Rou Reynolds took off into the crowd at one point, with his microphone in hand, and circled the entire floor while performing.  He then climbed on top of the soundboard and dove into the crowd where he then crowd surfed his way to the front of the stage.  Guitarist Rory Clewlow surfed the crowd crouched down on top of his pedalboard case lid all while still playing his guitar.  Enter Shikari was all over the place jumping off of monitors from every angle and diving into the crowd at will.  They provide a one of a kind performance that is not to be missed.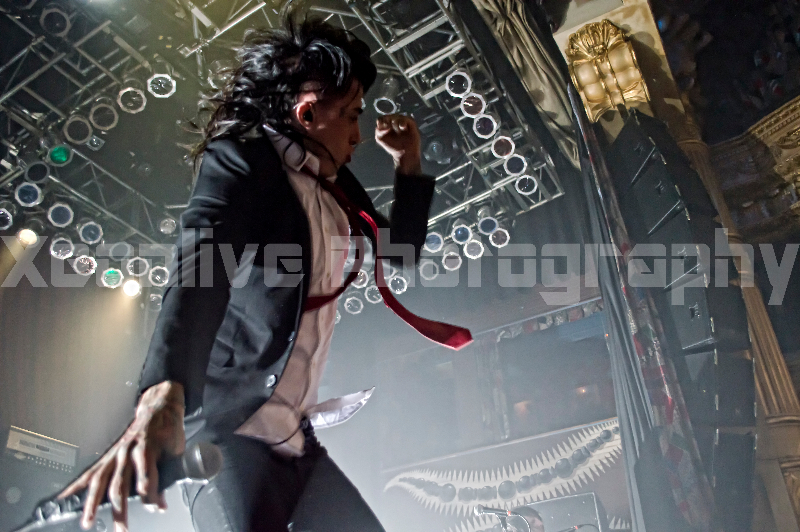 Even before the lights went dim, the crowd erupted into screams and began chanting "Ronnie, Ronnie," at the top of their lungs.  Tour headliners Falling In Reverse were about to take the stage and the venue was going crazy.  A short video intro played that depicted Falling In Reverse front man, Ronnie Radke, running for president with the rest of his band mates being his political entourage.  Then it began as Falling In Reverse took to the stage all wearing black suits.  A definite change from their Warped Tour 2012 apparel that consisted of extremely tight fit neon 80's clothing accompanied with Falling In Reverse signature denim vests.  A sure sign that these guys are having fun with every performance they do.  Falling In Reverse performed a flawless set that left the crowd in awe, performing their debut album, "The Drug In Me Is You" nearly in its entirety.  Lead guitarist Jacky Vincent's blazing solos left the crowd mesmerized and bewildered in amazement at how someone can move their hand's so fast, let alone in such graceful harmony.  Lead singer Ronnie Radke kept the crowd entertained as well with plenty of microphone swinging in every direction accompanied by a variety of dance moves ranging from breakdancing back spins to moonwalking across the stage risers.
An exquisite lightshow combined with a massive wall of Mesa-Boogie amps helped set the stage for Falling In Reverse. Blending elements of hardcore, pop punk and metal together, Falling In Reverse creates a unique sound that is certainly all their own.  Radke's vocals range from crisp melodies to growling screams, all of which were perfectly executed at this performance.  Bassist Ron Ficarro's screams harmonized wonderfully with Radke's melodic vocals throughout the performance.  Rhythm guitarist Derek Jones also contributed his fair share of vocals throughout the evening.  It was great to see him healed up from his Warped Tour mishap that led to him playing the majority of the tour with a removable cast on his foot.  Drummer Ryan Seaman was set dead center between the massive light and speaker wall shredding the drums throughout the entire set.  Falling In Reverse's encore began with Seaman performing a fantastic drum solo leading up to lead guitarist Jacky Vincent walking out and blowing the crowd away with some more of his incredible guitar solos.  For a good 5 minutes Seaman and Vincent keep the crowd ecstatic until the rest of the band came back out to finish the night off.
Despite the rumors and controversy surrounding both Radke and Falling In Reverse as a whole, they are nothing but professional from the moment they take the stage.  Radke's extremely personal lyrics seem to strike an accord with fans as they all manage to relate in one way or another to them.  The symbolism and meaning run much deeper than that however; Falling In Reverse does not try to glamorize any sort of partying, drugs, or anything of the nature.  Instead they prove to fans, critics, skeptics, and more that drugs and alcohol are not necessary to be cool or have a good time.  Radke has turned a new stone in his life since being imprisoned a few years back; going completely sober upon his release from prison.  With Falling In Reverse he is sharing his story with the world and inspiring people to hopefully do the same with their lives.  In the end, it is all just music, but with Falling In Reverse it is much more personal than that.  Radke could have easily written a best-selling novel based off of his rollercoaster life so far, but instead he chose to form a completely new band and start fresh from the ground up.  With a clear head and a tight-knit band supporting him, Radke has just begun to show the world what he and his band are truly capable of.
"The Thug In Me Is You Tour" turned out to be one of the best tours of 2012.  The eccentric lineup of such diverse and multi-genre bands made for an incredible evening of fresh music.  Many fans had been anticipating the tour's "very special surprise guests" however, after the first show of the tour, word had quickly spread across the internet that Falling In Reverse was their own special guests performing a handful of Escape The Fate covers from when Radke was their vocalist; for whatever reason the band did not perform those songs at this show.  The crowd was too busy going nuts once Falling In Reverse took the stage that many of them had completely forgotten about any notion of a surprise guest.  letlive, I See Stars, Enter Shikari, and Falling In Reverse all put on spectacular performances this evening leaving countless fans' memories that they will definitely cherish for a lifetime.  Do not pass up the opportunity to see any of these bands performing in the future as each one is guaranteed to put on an incredible show that is nonstop excitement and completely unpredictable.
http://www.facebook.com/fallinginreverseofficial
http://fallinginreversetickets.com/