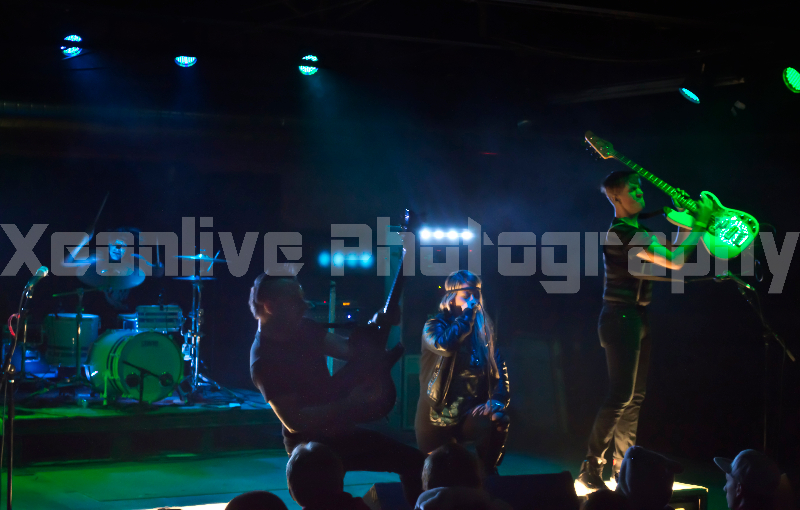 Embarking on their first headlining tour, Long Island, New York's Blameshift were barely able to escape the wrath of Hurricane Sandy to make it out on the tour.  Thankfully they made it out and "The Fortune and Flames Tour" was able to continue.  The tour came to Another Hole In The Wall in Steger, Illinois on November 8, 2012.  For support on the tour Blameshift brought along their good friends from New Jersey, Dive.  Both bands put on stellar performances as hard rock rhythms and melodies poured throughout the venue.  Blameshift and Dive are both putting the finishing touches on their upcoming albums due to release in early 2013.
Blameshift's lead vocalist, Jenny Mann, along with guitarist and backup vocalist, Tim Barbour, were kind enough to sit down and answer a few questions; read ahead to learn about some of Blameshift's history, influences, relentless touring schedule, future plans, and more.  For a refreshing dose of upbeat hard rock be sure to check out Blameshift and Dive when they come to a venue near you.  Also be sure to look out for new releases from both Dive and Blameshift in early 2013.
What inspired the name "Blameshift", and is there any special significance or meaning to it?
Jenny: Well now there is, when we first made the name there wasn't exactly any significance.  We needed a band name and we didn't have one.  We were going through every name you could think of searching the encyclopedia, dictionary, and just searching for something that hadn't been done and has a meaning to it.  Then our drummer at the time came up with Blameshift, and we were like that's cool we like it.  It used to be two words, but is now one word.  Over time it has just become our namesake.  We blame each other for everything, always!  It's kind of a curse because that became our name and then it's just always me blaming him, him blaming the next one (laughter).  It's funny though because before we came up with the name it was just two words put together.  Now if you look in the Urban Dictionary blameshift is an actual word.  Apparently Barrack Obama used it in a speech of some sort, to blameshift someone using it as a verb to basically shift the blame to someone.  So we feel like were pioneers of it (laughter).
Tim: We put it on the map (laughter).
Is the "Fortune and Flames Tour" any different than the previous tours you have been a part of since this is your first headlining tour?
Jenny: Yeah, this whole summer was just amazing for us.  We were out with Straight Line Stitch first, a really cool metal band with a girl singer.  Then we went out with 12 Stones, Throwing Gravity, and Digital Summer as a four band package, really good times.  With this tour we decided to repeat some of the markets that we were in.  It's also special to us because we got to take our friends out, Dive, they're from New Jersey.  This is kind of the time when not a lot of bands tour during November and December.  We thought it would be cool to just go out and repeat some of those markets where we met a lot of people.  One of the bands that played tonight, we played with last time.  Just hit those same markets and try to build it up.  When you go to a place and then don't go there again for a year, it's hard so we're trying to keep current in those places.  300 days this year we played.  We're just trying to get our names out there and play as many shows as we can.  Doesn't matter if it's 5 people or 500 people, whoever is there we'll play for your and put on the best show that we can.
Who were some of your biggest musical inspirations when you were younger before you got involved with Blameshift or anything?
Tim: We all kind of have our own backgrounds that we came from.  Me in particular I was into a lot of hair rock at first.  Skid Row, Poison, CC Deville was my idol when I first started playing guitar, and Guns and Roses.  Then I got into a lot of punk rock like NOFX, Face to Face, and the early Warped Tour punk rock bands.  Then it developed into rap music, dance music, back into metal, and then now basically into mainstream rock and I like everything.  You kind of go through each phase as you grow up.  It's cool when you can appreciate all the styles because if you really dug it at one point in your life, then you still can find good stuff within all of it.
How was recording "Secrets" given that you guys are an unsigned band compared to being taken care of by a label?  Would you say there is a lot more struggle to it, or do you like the freedom you have with things more?
Jenny: It definitely has its positives and its negatives.  For us, we've been offered many deals in the past that we've turned down because it's just not the right deal for us.  We've done so much on our own.  We've done what most bands on labels have done, and we've made more money because they owe money to their labels and we don't.  Until the right label comes around with the right deal that is really going to put us at that next level, we're good doing it on our own.  We're working as hard as we can work, and we're also taking all the benefits from it.  As an artist you want to have a team that's part of the whole thing, but a lot of bands just sign something because they want so bad to say I have a label deal or I have a team.  At the end of the day it's not what they think it is.  For us we don't need to be that band that says we have a deal because guess what?  We're touring 300 days a year and we're surviving in the music industry where a lot of our friends who were on labels aren't surviving.
Tim: Yeah they're breaking up right after the record comes out because it doesn't do that well, or it never even comes out because the label just cans it.
Jenny: So for us when the right label deal comes along, we're all for it.  Until then we're just going to keep doing what we're doing because it works for us.
Is there anyone you would like to acknowledge, thank, any last words possibly, or future plans you would like to mention?
Tim: Thanks for doing the interview.

Jenny: We'd just like to thank our fans.  We have those dedicated fans that will always be there for us, and we appreciate them.  We appreciate anybody that comes out to support live music on any given night because it's a constant struggle.  People can sit in front of their computers and watch their favorite bands on YouTube, tweet at them, and all that stuff but it is the people that actually come out.  They drive, spend their gas money, spend their lunch money, to pay to come out and get into a show we really appreciate that.  It means a lot to us.  As far as what's coming up, we have a tour set up in January, the ReverbNation Tour with a band called Apparitions. Then we've got some other exciting things planned for February and March.  We'll also be releasing our full length record called "Secrets" probably in March as well.
https://www.facebook.com/blameshift
https://www.facebook.com/DiveBand