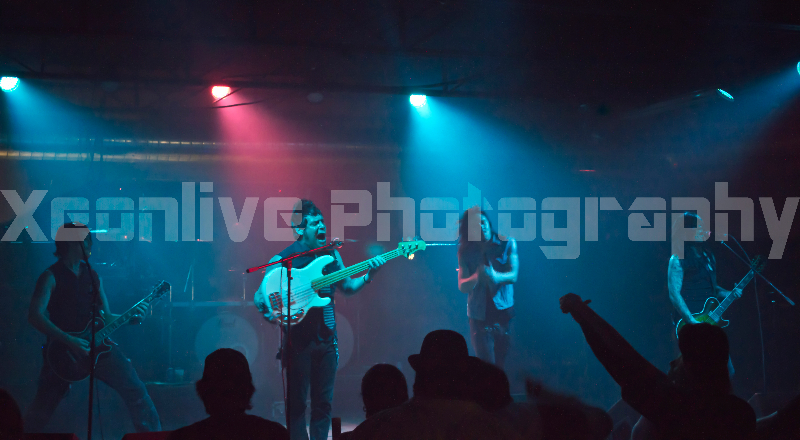 West Virginia hard rockers Bobaflex came to Another Hole In The Wall in Steger, Illinois on Sunday, November 11, 2012.  The band took to the stage with in a fast paced fury the moment their set began.  An assault of piercing vocals and blazing guitars filled the venue as Bobaflex rocked out.  Brothers Shaun and Marty McCoy traded guitar duties often, switching back and forth constantly throughout the set.  Each member of the band exuded nonstop, high energy on stage.  Shaun McCoy's wailing screams with his signature rasp captivated fans as they screamed for more.  The quartet of vocals provided by Shaun McCoy, Marty McCoy, John Hoskins, and Jerod Mankin truly provides the tone for Bobaflex's unique style of music.
With influences ranging in all genres of rock, Bobaflex's headbanging and harmonious melodies have gained them a large amount of fans across the world.  Having overcome an ugly legal battle with TVT Records, Bobaflex has gone on to form their own record label and self produce their albums.  Doing so has allowed complete creative freedom and total control over every aspect of their albums.  Founding brothers of the band, Shaun and Marty McCoy were kind enough to do an interview before the show; read ahead to learn about Bobaflex's origins, upcoming album, and more.  For a full throttle performance of nonstop hard rock, do not miss Bobaflex as they put on a one of a kind performance guaranteed to please.  
How did Star Wars help to inspire the name Bobaflex and is there any special significance to it?
Shaun: Basically I'm a Star Wars geek.  It was just supposed to be a bar band on the weekends just to have a good time, me and my brother started it.  After a while it became serious and that's why the name Bobaflex means nothing, it was supposed to be a joke, just something we came up with off the top of our heads.  Here we are ten years later performing professionally as Bobaflex. It's just an homage to Boba Fett, we're big fans, never wrote a song about Star Wars or anything though.
Who were some of your biggest musical inspirations when you were younger before you had even started Bobaflex or anything?
Marty: Can't you tell by looking at him (Shaun)?
Shaun & Marty; Motley Crue, Guns and Roses, Tool, Pink Floyd, Queen, Skid Row.
Marty: I was just thinking about the "Slave to the Grind" record yesterday, in fact I even started jamming on it a little bit.
Shaun: It's a good record.  I remember when we were kids too, we used to watch the Flash Gordon movie, and Queen did the whole soundtrack.  It was the first thing that kind of turned me on to awesome guitars.
Marty: What was our first record we had?  The Miami Vice Album.
Shaun: Oh yeah, that was the first album that we ever had.
Marty: It was a full album of Miami Vice tunes, it was awesome.
How was recording "Hell In My Heart" since you started your own label and self-produced the album?
Marty: It was awesome, it was an enjoyable experience.
Shaun: It was a great experience.  It was a little tough financially, we put all of our earned money into it, but slowly but surely we've gotten it back.
Marty: Before we were doing our own record label and all that stuff the record labels would always tell you, you can only do 11 songs.  You're only getting paid for 11 songs.  So we're like well, we're our own record label, we'll do 16 songs.  We thought that was cool, and it had been awhile since we put out a record.  Our fans were really rabid for a record so we decided to go above and beyond and put out a lot of songs on that record.
When can fans expect new material, and do you plan to self-produce your next release as well?
Shaun: Yeah, we definitely are.  New album is coming out next February.
Marty: We're kicking around names right now.
Shaun: Yep, couple of names, one was "Dead Cowboys Always Come Back" (laughter).
Is there anyone you'd like to acknowledge or thank, or any last words? 
Shaun: All of our fans who have pretty much paid for our lives in this 40 foot RV and allowing us to keep our childhood dream still going.  Within the record industry we're finding our way, making more money, and we're going to Europe next year, our first time actually, we can't wait.  All this because of our fans.  They have stuck with us through thick and thin.
https://www.facebook.com/Bobaflex