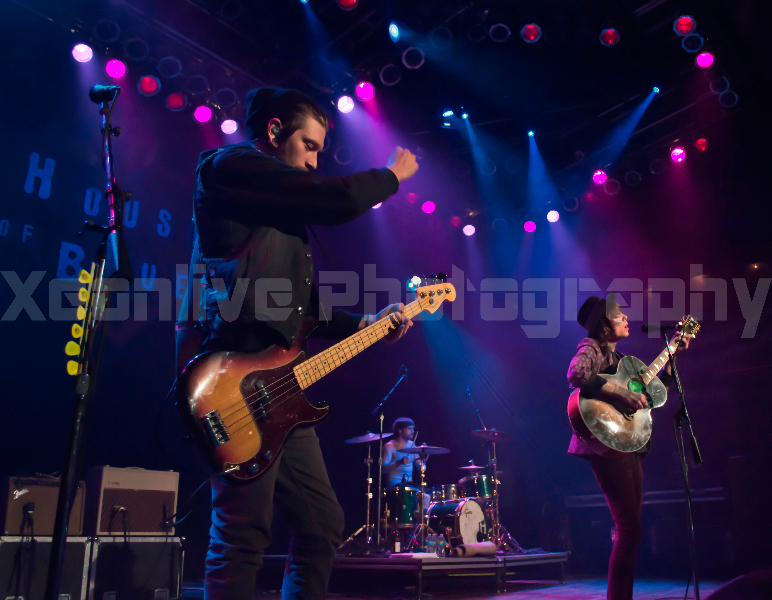 Never Shout Never
November 21, 2012
House of Blues
Chicago, IL
Never Shout Never came to the House of Blues in Chicago, Illinois for a Black Wednesday performance.  The band is on tour in support of their latest album "Indigo" which recently released on November, 13, just a week before the tour started.  This portion of the tour included Me Like Bees, Mod Sun, and Man Overboard as the supporting acts.  Fans lined up around the entire building eagerly awaiting the doors to open for a jam packed night full of diverse music.  Never Shout Never were kind enough to do an interview with us before the show which can be read here:  http://xeonlive.com/2012/11/25/never-shout-never-interview.
Starting off the evening's festivities was indie rock sensation Me Like Bees.  The four piece band from Joplin, Missouri had a smooth and crisp style to their music combining off rhythms and various breakdowns at will.  Their sound is something that truly resonates within listeners due to its constant musical variety.  Me Like Bees lineup consists of Pete Burton – guitar and lead vocals, Luke Sheafer – guitar and vocals, Nick Bynum – bass and vocals, and Timothy Cote – drums and vocals.  With all four band members contributing vocally, a wide variety of vocal tones compliments their indie rock sound.  To help start the evening off right Christofer Drew came out to enjoy some of Me Like Bees set in a private balcony area, and once the fans noticed him the venue erupted in screams of excitement as he let loose some of his signature dance moves.  The band puts on a lively set that included front man Pete Burton punching a cymbal in sync with the music.
Completely switching the musical content up for the evening was Minnesota self proclaimed "Hippy Hop" star Mod Sun taking the stage next.  His partner Pat Brown holds down Dj, guitar, and back up vocal duties that help define the unique sound that is Mod Sun.  An eccentric blend of hip hop vocals, dubstep beats, punk rock guitar rhythms, and more come together to create the unique style of music branded as "Hippy Hop".  The music's core messages touch on happiness, freedom, and marijuana.  The entire venue, including security, were bobbing their heads to Mod Sun's blazing fast rhymes and beats.  For years Mod Sun was the drummer for screamo sensation Scary Kids Scaring Kids before leaving that role to pursue his solo career.  Mod Sun was all over the stage jumping, twirling, and tumbling in a frenzy leaving fans ecstatic and screaming for more.
New Jersey pop punk sensation Man Overboard took the stage after Mod Sun had finished up.  Man Overboard wasted no time jumping right into their upbeat pop punk explosion.  The five man band consists of Zac Einstein – lead vocals and guitar, Nik Bruzzese – lead vocals and bass guitar, Wayne Wildrick – guitar, Justin Collier – guitar, and Joe Talarico – drums.  The three guitar player lineup reenforces the infectious pop punk rhythms that the group churns out.  Fans were going wild to the point the band even had to stop their performance at one point so that security could remove a young patron from the front who appeared to be unconscious.  The show then continued as fans went back to bouncing up and down screaming for more as Man Overboard continued to crank out their hits.
Finishing up the evening was headliners Never Shout Never.  The band has achieved global success over the past few years with their unique blend of rock music with their own personal twist added to it.  Never Shout Never had just released their latest album "Indigo" just a week before this show, and fan attendance was huge.  The House of Blues staff actually blocked access to the main floor as they felt it was at capacity.  This certainly left many fans angry to say the least as access was extremely limited to the floor and security was strictly enforcing this.  None the less seemingly every patron began to sing along word for word as lead vocalist Christofer Drew's harmonious vocals filled the venue.  His eccentric wardrobe consisting of a lavish designed blazer and hat combined with custom tribal face paintings and bare feet seemed to be right on character for what fans have come to expect from Christofer Drew.  Stomping bass rhythms were provided by Taylor Macfee who kept the groove flowing for the band.  Hayden Kaiser held down the drums rounding out the unique musical trio of friends from Joplin, Missouri.
Never Shout Never certainly brought the fans to their knees as they performed a wide variety of their hits.  Front man Christofer Drew was constantly changing from an electric guitar, to an acoustic guitar, ukulele, and more showcasing his diverse musical talents that help culminate what the band's unique sound is all about.  Overall the night provided a wide variety of musical genres together as one to put on an outstanding performance.  Indie rockers Me Like Bees, Hippy Hop sensation Mod Sun, and pop punk stars Man Overboard all helped to put on a terrific night of music leading up to headliners Never Shout Never's awe inspiring performance.  The tour has just begun and will be continuing across the country for the next month hitting a multitude of locations along the way.  Be sure to check out the links below for news, tour info, and more from all of the bands involved on the tour.
http://www.nevershoutnever.com/
https://www.facebook.com/ManOverboardNJ
https://www.facebook.com/friendbase