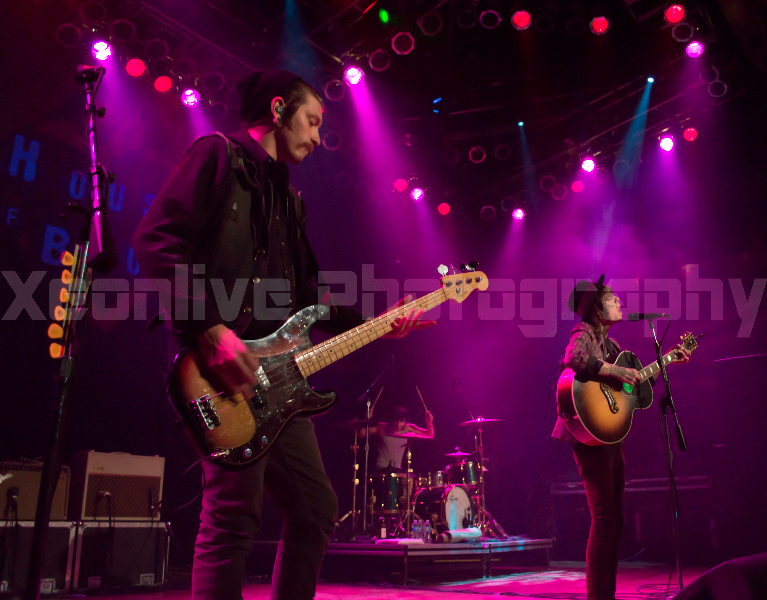 Never Shout Never was fresh on the start of their current North American tour when they came to the House of Blues in Chicago, Illinois for a Black Wednesday performance.  With their newest album "Indigo" releasing just one week ago, fans were ecstatic to be in attendance.  Never Shout Never was kind of enough to sit down and answer a few questions before their performance, as well as share some tea.  To learn more about Never Shout Never's influences, challenges, upcoming album, and more continue reading.  Truly some down to earth guys who have not let fame go to their heads.
You guys were recently in South America, how was that whole tour and experience for you guys down there?
Christofer: South America was amazing.  It was our second time down there, and it was the best yet ever.  We had a great time; we were down there for two weeks.  We started to get a little homesick because there was a big barrier in communication, but other than that the shows were amazing and the kids were just so cool.
How would you describe your music to someone who has never heard you before?
Taylor: Anytime anybody asks "Oh well you play in a band, what kind of music do you play?" I feel like all of us will generally just sit there and think about it for a second or two.  It's just rock and roll like a folk rock and roll kind of thing, but we have a pretty…
Christofer: But that's not what it is,
Taylor: Yeah.
Christofer: We don't know what it is.  We haven't found a specific sound yet.  We're still kind of experimenting through a lot of sound until we find that one that we want to stick with.
Taylor: I think we have a specific sort of feel to most of our songs that kind of, whether it's through the lyrics, the vocal melodies, or the rhythm section stuff.  I don't really think you can put a finger on what style of music it is ever.
Who was the first artist that truly inspired you to become musicians?
Christofer: For me it was my dad he played and I always thought it was so cool.  He's a Christian and he would turn old Beatles and Bob Dylan songs into worship songs, and I always thought that was really cool.  Just hearing my dad play it kind of gave me, well I just feel that I play and write like him.
Taylor: When I was in middle school I had a buddy back from middle school named Carter that played guitar and I was like man that is so cool.  Then I decided to pick up a guitar and tried to start playing, so thanks Carter. (Laughter)
Hayden: My dad was my main influence for starting.  I'd always played drums, but my dad kind of taught me how to play guitar.  Ever since then its just been a crazy wild ride of playing music.
Do you feel that your musical style has evolved on "Indigo" compared to your prior releases?
Christofer: Yeah, it was just us kind of us making a combination of everything we've ever done into one album.  I think that was just good for us as a band to do that because now I feel were almost starting on a clean slate on the next album.  We used all of our old tricks all together as one, and that was cool for what "Indigo" is, but I'm more excited about our next album already.  It's going to be just a lot more folk, Americana, rock, just a lot more like our live sound.  That's something we've been wanting to do for a while.  With our live sound right now, none of our songs sound like they do on the record because we just rewrite them to fit the 3 piece that we have going on with drums, bass, and whatever instrument I'm doodling around on.  It would just be good to make a record that's like our live sound, and that's our next goal as a band.  The next step for us.
With the release of "Indigo" you guys offered limited edition cassette tape copies.  What was your inspiration behind that?
Christofer: That was our manager, Diamond Wolf, his idea.  He likes that retro sort of punk stuff and has a cassette label that he also runs so we like to team up with him on our releases and get out some cassettes.  Also the first thing I ever recorded on was a cassette.  I had one of those radios that you could record on with your own cassette.  Then I'd put it in my parent's car and be like oh shit it's real! (Laughter)  Cassettes just have a special place in my heart.
Taylor: We're going to do laser disc releases next. (Laughter)
You guys have done a lot of work for charity with your music, is that something that has always been a part of your lives?
Christofer: Whenever it comes to charity I just feel when blessings come you should give away blessings.  It's good for karmic values.  It's really just a way to use some of the good in your heart for something good.  All it takes is just the decision to do it as long as it seems logical to do.  It's what I'm going to be doing with my solo EPs.  They're going to be free with a donation button for whatever they want to donate, and that will go to either Charity Water or anything else.  It's kind of up to time with that.  It just feels good and I've never cared about money.  I've realized over time I used to hate money, but now I've realized that it's an energy source.  It's an energy source that can be used in several different ways, for good or for bad, and I try to put it all into good things.  I try to put all of my money back into this band, music, the record label I own, and then put it into whatever else I can along the way that is doing good.
Taylor: It's the root of all evil, but you can do a lot of good with it too.
Christofer: Yeah, very true.
What do you feel has been your biggest challenge as a band so far?
Christofer: We had a crazy year this year.  We were a 6 piece band at one point with a couple other friends of ours and two other guys from out of town.  Just dealing with lineup changes.  It's kind of been one of those things where we don't really know what we're going for exactly.  We know that we love playing music and that we're going to keep doing it.  I think our biggest challenge has been finding a sound that we are completely satisfied and comfortable with.  We're going to keep trying new sounds out until we find it.  I think that has been our biggest challenge is to be able and listen back after a record is all done and released we can listen and be like man that's just right.  With "Indigo" I listen to it now, and I'm like man that still doesn't sound like us.  I'm waiting for that record that sounds like us, and we know that it's us being portrayed through music.  We're still trying to find that.
Taylor: We don't know what we're doing (laughter).  We don't have the slightest idea (laughter).
We had a couple of fan questions through submissions on our website for you guys.
1. Out of all of your tattoos do you have a favorite one?
Taylor: Umm, I don't know.  I don't know that I have a favorite.  I have gathered a lot, and they all mean something pretty special to me.  I don't have as many as Chris or any just throw on because they're funny and your friends got one.  I'd say this one is probably the most important one to me.  It's of this dead cowboy thing off of a postcard that my girlfriend sent me on tour one time.  I was like wow that's cool I'm going to get that tattooed super huge on my arm.
Christofer: For me I would probably have to say the red tailed hawk I have on my neck.  It was certainly the most strenuous and lengthy tattoo I've gotten.  It represents a totem spirit guide, like an animal totem, which is a red tailed hawk and so I decided to get it.
Hayden: I don't have any tattoos.
Taylor: Well actually he (laughter).
Christofer: He does have one tattoo. (Laughter)
Hayden: I have one tattoo on my back.
Christofer: You should be a little bit more proud of it buddy. (Laughter)
Hayden: Shut up.
Taylor: He has a butterfly with swirls on his lower back.  It's really something. (Laughs)
Christofer: Bad night in Amsterdam. (Laughter)
Taylor: Oh that would be the worst. (Laughter)
2. When and why did you become a vegetarian?
Christofer: I'm the only vegetarian, well I'm a vegan, but I'm the only one thats taken that route or that action.  I guess what made me do it back then was I just watched this one video being really f*cked up on the internet just like oh my God.  It also felt good to get behind something that was totally new.  Nobody knew or ever really talked about it.  I decided it was a good vibe and I'm still doing alright, it feels good.  It's improved my health.  I feel a lot more lighter on my toes and not all bogged down so it's nice.
Taylor: Heavy weight boxer. (Laughter)
Any future plans you would like to share?
Christofer: Yeah, we're going to be recording a new record in February, F-13.  I think we can say, because we always change what we say about what direction we're going with the record.
Taylor: Yeah usually we say it's going to do this, this, and this, and call it this.  Then it's something completely different.
Christofer: Yeah, but I think we can say now it's going to be a real folk rock direction.  I think we can stay true to that.  It's going to be a lot like our live sound which I'm real excited about.
Taylor: A real raw Americana, kind of driving folk sort of stuff, hopefully. (Laughs)
Christofer: I'm real excited about it; I think it will work well.
Is there anyone you would like to thank, acknowledge, or any last words?
Christofer: We just want to thank anyone who reads the interview, and anyone who has given our music a chance.  Those who try to feel it and listen with an open mind.  Also all the musicians in the history of music.
Taylor: All of our fans, friends, and family.  And all of the musicians in the history of music. (Laughter)
Hayden: Roughly the same. (Laughter)  Friends, family, and those crazy fanatics. (Laughter)
https://twitter.com/NSNOfficial
https://www.facebook.com/nevershoutnever