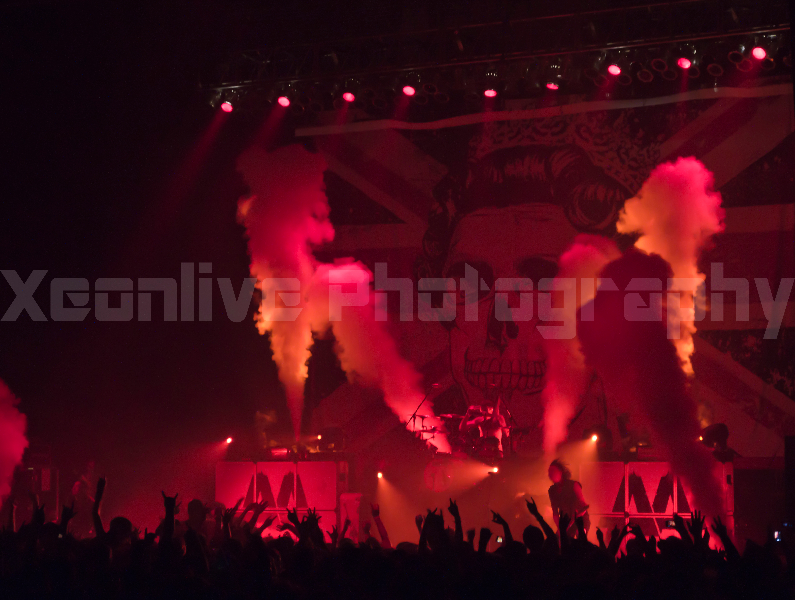 British heavy metal sensations Asking Alexandria came to the Congress Theater in Chicago, Illinois on 12-2-12 headlining the "Monster Energy Outbreak Tour".  An all star line up included As I Lay Dying, Memphis May Fire, I See Stars, and Attila as the supporting bands.  Asking Alexandria's tour bus was involved in an accident on their way to the venue, and thankfully no one was seriously injured.  Lead guitarist Ben Bruce did endure a sprained ankle from it all, although with his nonstop stage performance no one could even tell.  The band had no intentions of slowing down as they immediately jumped back on the road after the accident to make it to the show.
A massive line of fans stretched the entire length of the venue and then back again long after doors had even opened for the show.  Due to this Attila's performance was unfortunately missed by some patrons.  Many had to settle for hearing what they could of Attila's performance outside waiting in line.  Next to take the stage was Detroit, Michigan's I See Stars.  They were recently thrown off of Falling In Reverse's tour for no real apparent reason.  When I See Stars came to Chicago this past October on that tour they put on an outstanding performance with front man Devin Oliver launching himself into the crowd to finish off their set.  Despite whatever supposed accusations were made about the band, I See Stars and their fans banded together.  Plenty of their fans went to the point that Falling In Reverse front man Ronnie Radke began ejecting I See Stars fans from shows throughout the rest of the tour.
Unwilling to their let fellow labelmates be falsely disrespected, Asking Alexandria promptly recruited I See Stars to join them on the "Monster Energy Outbreak Tour".  Suicide Silence was originally scheduled to be on the tour, but due to the unfortunate passing of their front man, Mitch Lucker, Suicide Silence had to drop off the tour.  I See Stars took the stage with a fury igniting the venue into a frenzy.  The band wasted little time addressing the Ronnie Radke drama other than orchestrating a massive "f*ck you Ronnie" chant and middle fingers being held up by nearly everyone in attendance.  Other than that I See Stars were focused on giving their fans a stellar performance.  From stylish dance moves to dubstep breakdowns I See Stars unique musical style kept the crowd moving and screaming for more.  At one point everyone in the crowd was encouraged to crowd surf to the front of the stage so that the band could shake hands with them.  Mass waves of crowd surfers kept security scrambling as they could not even keep up with amount of eager fans flying over the front railing.  In the end I See Stars put on a terrific performance that certainly dispelled any negative accusations that have been made about the band.  Be on the lookout for a new album sometime in 2013 from I See Stars on Sumerian Records as well.
The high octane Texas rockers Memphis May Fire were next to take the stage.  These guys were nonstop from the moment they walked out on stage.  Wasting little time the band cranked out a variety of fan favorites both new and old.  Memphis May Fire have been touring nonstop promoting their latest album "Challenger" which released this past June on Rise Records.  Lead singer Matty Mullins was all over the place, seldom standing still during the entire set.  Rhythm guitarist Anthony Sepe recently joined the band this past April yet on stage seems as if he has been playing with the band from the start.  A great set was put on by Memphis May Fire.
San Diego thrashers As I Lay Dying came out with a massive drum riser and a slight haze of fog was in the air when they took the stage.  The band's setlist spanned their decade long career with a wide of variety songs being performed.  Lead singer Tim Lambesis looked as if he were doing part of his workout routine on stage exhibiting a plethora of high jumps, tucks, and hops.  Nonetheless As I Lay Dying put on a brutal set with fans forming walls of death and circle pits at will.  The entire band put on a great performance executing their high speed technical riffs with ease.  As I Lay Dying's latest album "Awakened" released this past September on Metal Blade Records and the band has been steadily touring since then.
Last but not least were the tour headliners.  The U.K.'s Asking Alexandria has been an explosion upon the north American metal scene since they first ventured to the states in 2009.  The band has toured relentlessly across the globe and back again over the past three years gaining more fans every step of the way.  A thick heavy blanket of fog covered the stage and traveled out into the crowd as Asking Alexandria took to the stage.  The band looked almost surreal in matching tattered black jeans as members would partially fade into the fog.  It was a true visual treat for the plethora of eager fans in the crowd as they were captivated by the psychedelic infusion of fog and light while entranced by Asking Alexandria's all out musical assault.
Front man Danny Worsnop sported a black fringed suede jacket as part of his attire for the evening.  His vocals whaled throughout the venue as the mosh pits grew larger than they had been all night long.  If it had not of been for lead guitarist Ben Bruce's tweets about spraining his ankle during the bus accident earlier in the day, nobody in the crowd would have had the slightest notion that he was injured.  He could be found headbanging around the entire stage with his guitar blazing away riff after riff.  Rhythm guitarist Cameron Liddell and bassist Sam Bettley held their own as well with crunching rhythms while thrashing about the stage.
Asking Alexandria put on an outstanding show giving fans a fantastic visual and musical performance.  They are finishing up their third studio album to be released in 2013 on Sumerian Records.  They recently release "Under The Influence: A Tribute To The Legends of Hard Rock".  The band is also headlining the "While She Sleeps Tour" throughout the U.K. and Europe once they finish the "Monster Energy Outbreak Tour" here in the U.S.  Everyone in attendance was treated to a night full of diverse blends of heavy metal by top notch artists.  Be sure to catch Asking Alexandria, As I Lay Dying, Memphis May Fire, I See Stars, and Attila the next time they are on tour as each one puts on a performance not to be missed.
https://www.facebook.com/askingalexandria
https://www.facebook.com/asilaydying
https://twitter.com/ASILAYDYINGBAND
https://www.facebook.com/MemphisMayFire
https://twitter.com/MemphisMayFire
https://www.facebook.com/ISeeStarsMusic
https://twitter.com/iseestarsmusic
https://www.facebook.com/AttilaGA