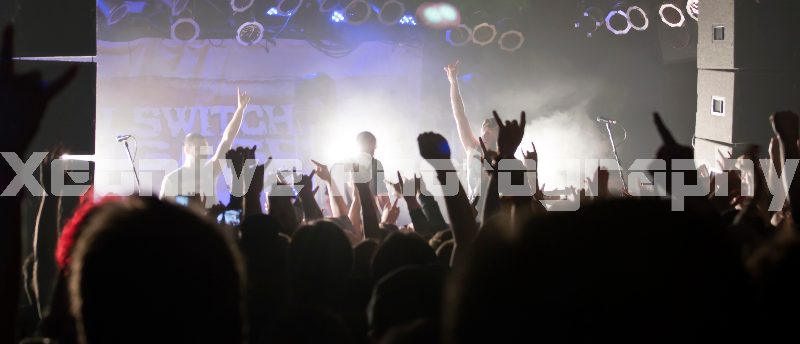 Massachusetts heavy metal veterans
Killswitch Engage
brought their "
Alive or Just Breathing
" ten year anniversary tour to
Bottom Lounge
in Chicago, Illinois this past Monday evening.  Along for the ride were fellow Massachusetts heavy metal bands
Shadows Fall
and
Acaro
making the tour a trio of Massachusetts based metal bands.  "
Alive or Just Breathing
" was
Killswitch Engage's
second studio album that was originally released on May 21, 2002 through
Roadrunner Records
.  The album launched
Killswitch Engage's
career full force ahead exploding them onto the top of heavy metal scene worldwide.  This show had sold out far in advance and the venue was jam packed with a diverse variety of fans all ready to rock out.
Starting the evening off was the lesser known Acaro.  Judging from the sold out crowd's overwhelming response to the band's performance, Acaro is surely making a name for themselves.  Everyone in attendance seemed to thoroughly enjoy the band's raw and unfiltered straight forward heavy metal sound.  To travel around the country as a band opening for high caliber bands such as Shadows Fall and Killswitch Engage is no easy task.  Acaro kept the crowd captivated with their intense performance from start to finish.  Acaro openly state that they continually strive to give their crowds more than they could ever expect from their performance.  At Bottom Lounge they did just that by coming into the venue being nearly unknown to many patrons before their performance, and having gained a plethora of new fans surely by the end. Acaro delivered a great set proving that they can hold their own on stage and are certainly an up and coming band to watch out for in the heavy metal world.
Shadows Fall was next to take the stage.  Given their close relationship with Killswitch Engage over many years, and being Massachusetts natives as well, Shadows Fall was right at home on this tour.  Front man Brian Fair had to navigate his way through the massive crowd to make it to the stage for his performance.  This was certainly a treat for the few fans that were lucky enough to spot and speak briefly with him, and was also a display of how interactive and down to earth Fair is when it comes to appreciation for his fans.  Once Shadows Fall took to the stage it was an all out assault of thrash metal.  With over a decade of studio album releases the band has a pretty extensive catalog to pick and choose their setlist from.  A wide variety of songs ranging from old classics to tracks of off their latest release "Fire From the Sky" were performed to appease fans from all periods of their music.  Some of their stand outs included the classic "Destroyer of Senses" as well as "War" the fastest Bob Marley cover ever.  Witnessing lead singer Brian Fair's 4 to 5 feet long dreadlocks wildly flailing about the stage as Shadows Fall unleash an all out fury of thrash metal is a sight to surely see.  Shadows Fall have been putting on brutal performances for over a decade and this evening was certainly no exception as fans went wild and were chanting for more.
Tour headliners Killswitch Engage were next to take the stage as the sold out crowd squeezed onto every available inch of the venue floor.  Throughout the entire duration of this tour Killswitch Engage are performing "Alive or Just Breathing" in its entirety to celebrate the tenth anniversary of the album's release.  This tour is also the first time in ten years since the original lead vocalist Jesse Leach has been a member of the band.  Shortly after the original release of "Alive or Just Breathing" Leach abruptly and unexpectedly decided to quit the band.  Howard Jones was recruited to handle vocals duties for the band as he successfully had done for the past ten years.  It was this past January that Jones amicably parted ways with Killswitch Engage leaving the band yet again without a lead vocalist.  Leach auditioned for the role and it was a no brainer for the band as they were blown away by his performance.  Killswitch Engage wasted no time once they took to the stage immediately breaking into "Numbered Days" and then continuing to play the rest of the album in its entirety.  Fans went wild as the band was nonstop energy from the moment they took the stage.  Lead guitarist Adam Dutkiewicz wore some of his signature attire, that being cut off shorts, tank top, and a Rasta bandana. Killswitch Engage put on an excellent performance, and Leach flowed wonderfully with the rest of the band as if he never lost a beat.
This sold out performance was a show that was certainly not to be missed.  Acaro, Shadows Fall, and Killswitch Engage all put on top notch performances leaving fans ecstatic and begging for more.  This tour was a great idea given that it provided a bit of a musical history lesson for the younger generation of metal fans that were not all too familiar with "Alive or Just Breathing", Jesse Leach, or some of the best heavy metal bands that have come out of the state of Massachusetts.  Bottom Lounge provided the setting for an up close and personal experience with the bands given its smaller size compared to some of the larger venues and the sold out crowd loved every second of it.  Be sure to follow all three bands through the links below for their latest updates, and definitely catch any one of them the next time they come to town.
https://www.facebook.com/killswitchengage
https://www.facebook.com/shadowsfall
https://www.facebook.com/officialacaro