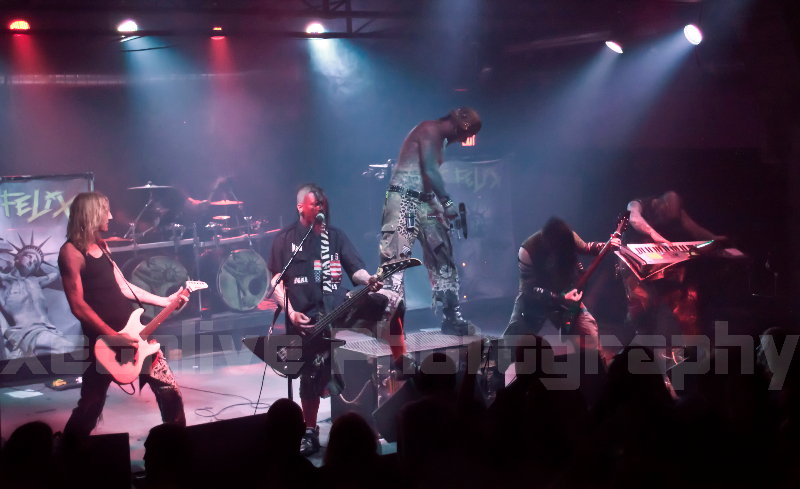 Minnesota's Blue Felix descended upon Another Hole In The Wall in Steger, Illinois for The Dark Days of Christmas food drive concert.  Also performing were Chicago natives Janus and The Denial Machine along with local support for the evening provided by Delightful Downfall, Fist to the Sky, Demo, Unknown Zodiac, Awaken The Grave, and Radio Creeps.  A massive crowd of eager fans began to fill the venue from the moment doors had opened.  Kankakee, Illinois premier hard rock radio station The KAT 105.5 was also in attendance doing a live broadcast throughout a portion of the show making this event one of the largest concerts in Chicagoland taking place this past weekend.
Event co-headliners Blue Felix are well known for their extreme live performance.  They certainly lived up to and went beyond any expectations fans had with front man Toxsick Tripp swinging from the venue's rafters multiple times throughout their set while the rest of the band cut loose and thrashed about the stage as well.  Blue Felix always puts on a top notch performance with their unique style of melodic metal music with a nonstop and intense live show to back it all up.  Blue Felix's live show is one of a kind and truly gives fans the true Blue Felix experience that you can not get by just listening to the album.  With a performance on Knotfest earlier in the year, as well touring extensively with Mushroomhead, American Head Charge, Sid Wilson, and others, Blue Felix continue to share their music and incredible live performance with the world every chance they get.
Before their set lead vocalist Toxsick Tripp along with bassist and backup vocalist Gideon were kind enough to sit down and answer a few questions about the band's history, their musical influences, plans for 2013, and more.  Read below for some words of wisdom and insight from two very down to earth guys who will rock your face off.
How did Blue Felix first become a band?
Toxsick: Couple of kids getting together just messing around at first.  Just jamming for the sake of playing music.  We never thought it would evolve into what it is.  It just kind of happened.  Get together for a way to escape the daily grind on just certain nights of the week and jam.  Next thing you know it's more than just hey lets get together and jam.  It starts to take over as first priority.
Is there any significant meaning behind the name Blue Felix?
Toxsick:  Blue Felix is named after a hit of acid.  It is a hit of acid.  There's Yellow Felix, Red Felix, dipped together they're Dancing Felix.  I don't partake too much in the psychedelics anymore.  It was pretty much heavily influenced amongst the band.  Early to mid to late 90's.  Pretty much all the 90's experimented pretty heavy with it.  We built what it is around what it was.
Who were some of your biggest musical influences that made you first want to become musicians?
Gideon: I'd say a lot Hed PE, Ill Nino, 40 Below Summer, Slipknot, Floyd, Zepplin, a lot of classical stuff.  Just all kind of a mixture of all the genres we mix together.
Toxsick: Just all the classics.  My favorite band is Pink Floyd, which sounds crazy, but I listen to a lot of heavy stuff too.  The first time I saw Rage Against The Machine I was seventeen years old just like oh sh*t, that's serious.  Rage Against The Machine, Pantera, just all that type of stuff back in the day you know.  I'm a huge Nirvana fan to, plus a lot of old school punk stuff.  Everything mixed together, just mix it all up and bippity, boppity, boo.
What was it like for you guys to be a part of Knotfest over the summer?
Toxsick: It was a lot of fun.  A lot of people with a real good reaction.  The crowd took it real well.  Everybody seemed to dig it.  You always get a few snibblers in the back, but we tore it up and hat a lot of fun.  It was great to be a part of something like that.
Do you guys have any hobbies when you aren't busy with the band or on tour?
Toxsick: Tons, personally I got two kids so I hang out with them quite a lot.  I snowboard, sew my own wardrobe, and I travel all the time.  I'm just everywhere all the time doing all kinds of different stuff.
Gideon: I got a 9 – 5 so when I go home I just go to work.  Days off of work I'm with the band so I keep pretty busy.  Got to schedule tours, time off, and all that stuff.
What has been your biggest challenge you've had to overcome as a band so far?
Toxsick: Just sticking the through ups and downs.  Almost 8 years we've been together now with just two remaining of the original. Just sticking together and staying true to what the main goal was.  Not getting distracted and caught up with stupid sh*t.  Knowing that Blue Felix is bigger than us so to keep it alive.  Not to let anyone get before band.  Keep it together and keep it focused.
Gideon: Kind of the genre we've put ourselves in, the content in which we speak about kind of puts a little damper on us moving forward.  It's a small genre and we keep pushing through.  It's bigger than us so we've got to keep in line and get bigger and bigger.
Toxsick: The ones in control don't really want what we're trying to say to be heard.  They try to keep you quiet.  People are afraid of the truth.
Any big plans for 2013?
Toxsick: We're going to come out with a new record that's in pre-production right now.  A lot of new ideas on board with our new guitar player Stoney and Ant came through on the drums.  It will be our first record with them.  The technical level, the heaviness overall, the new direction will still have that Blue Felix flare, but it's just going to be more intense than anything we could have imagined.  Some of the stuff we've been working on is already just like wow.
Gideon: It always gets progressive.  We always get better and better.  We're never satisfied with what we have.
Anyone you want to acknowledge, thank, or last words for your fans?
Toxsick: I definitely want to thank all the fans.  Everybody that has had our back and stayed true.  People that continue to keep the blinders off and think how they want to think.  Not be influenced by other people.  They say oh them guys they whatever this and whatever that, no they stay true to themselves and true to their lives.  Just all them people that keep us going and especially The Dogs of Doom.
https://www.facebook.com/BlueFelixOFFICIAL
https://twitter.com/BLUE_FELIX