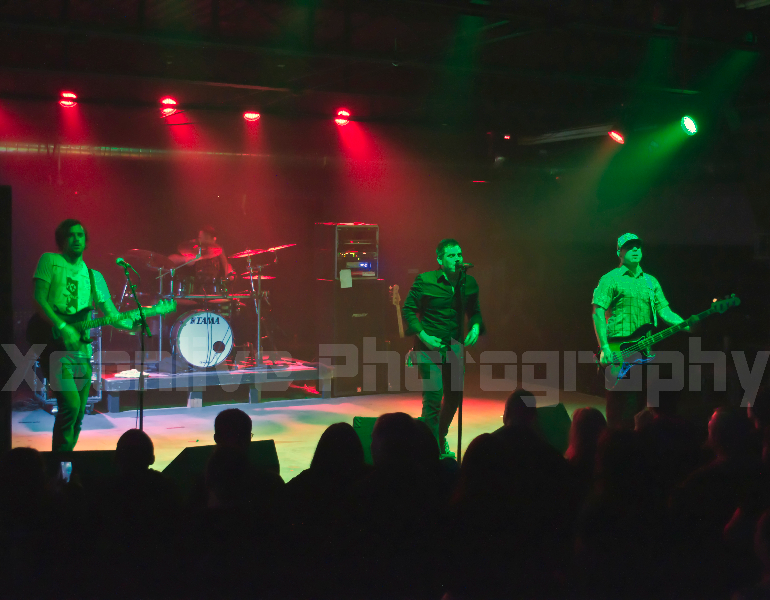 Chicago natives Janus descended upon Another Hole In The Wall in Steger, Illinois for The Dark Days of Christmas food drive concert.  Also performing were Minnesota mad men Blue Felix as well as The Denial Machine.  Local support for the evening was provided by Delightful Downfall, Fist to the Sky, Demo, Unknown Zodiac, Awaken The Grave, and Radio Creeps.  A massive crowd of eager fans began to fill the venue from the moment doors had opened.  Kankakee, Illinois premier hard rock radio station The KAT 105.5 was also in attendance doing a live broadcast throughout a portion of the show making this event one of the largest concerts in Chicago land taking place this past weekend.
Event co-headliners Janus are a well known Chicago band that was finishing off their 2012 shows with this evening's performance being the last.  The band's stylistic blending of soft and somber melodies with heavy low end rhythms combined with lead vocalist David Scotney's piercing vocals along with a slight infusion of electronica create the unique sound that Janus has made for themselves.  Their latest release "Nox Aeris" on REALID Records came out this past March with the album's first single "Stains" reaching the top twenty charts.  Janus has been a staple in the Chicago music for some time now with a heavily devoted fan base that continues to grow.
After the band's set, frontman David Scotney was kind enough to sit down and answer a few questions about the band's formation, recording a new album in 2013, and plenty more.  Read below to get some insight and greater appreciation for both Janus and David Scotney.
How did Janus first become a band?
David: I started an old version of Janus back when I was in high school.  We were trying to figure out what we were doing, and that version of Janus moved to Chicago.  Pretty much everyone else quit and then I just kept pushing forward.  I got some new guys involved.  Right around 4-5 years ago we signed our first deal and put out "Red Right Return".  "Eyesore" went top ten and we toured for about a year.  It took us another year to write another record, so we were out of the game for awhile, but we wrote "Nox Aeris" which is our second record along with putting out "Stains" which was our second single.  That went top twenty.  We didn't tour as long on that record.  Tonight we just played our show and we're about to start writing another record.
Is there any significant meaning behind the name Janus?
David: There is, it's the Roman God of gates and beginnings.  It's a two-faced God that one looks forward and one looks backward.  It's also the root word of January.  It was also one of those words we thought had a cool duality behind it.
Who were some of your biggest musical influences that made you first want to become a musician?
David: The guys would probably kick my butt for talking about what inspired me but my first record was a Motley Crue record.  Then I kind of got into The Cure and REM.  Then I bought my first Helmet record and I was blown away.  Page Hamilton is an amazing writer.  We actually played a show with him down in Phoenix and hung out with him all night.  He's a great guy.  He caught our set too which was amazing.  He's definitely been one of the largest musical influences in my life.
Do you feel that your sound or style as a band has evolved on "Nox Aeris" compared to your prior releases?
David: Yeah, when we came out with "Eyesore" and we wrote "Red Right Return" we didn't want to do the same thing over again when we started writing another record.  We didn't want to rush out another record and try to rip off ourselves essentially.  Anything that sounded like anything off of the first record we threw away.  It took us a year to kind of find our new voice, but I feel the songs are pushing the envelope a little bit creatively for us.
Do you guys have any other hobbies when you aren't busy with the band or touring?
David: I love to paint and sail.
What do you feel has been your biggest challenge to overcome as a band?
David: Just money, I think it's hard to make a living doing this as a new band.  Right around the year 2000 the internet just changed the way labels treated bands.  Now bands struggle to make a living out there on the road.  They don't see the kind of money they used to from record sales.  It's tough; the whole game has changed for everybody for the labels as well.  I think that trying to turn it into a living is a very different game than it was 10-12 years ago.
Do you guys have anything big planned for 2013?
David: Yes, we're writing a new record.  I just got a batch of new demos from Mike actually.  We're going to write a record as quickly as possible and try to get back out there in the summer.
Is there anyone you would like to acknowledge, thank, or any last words?
David: Just keep in touch with us on Facebook and Janusmusic.com.  I think we're going to move a lot more quickly with the new record and we're going to continue to push the sound.  We're going to keep all the stuff that is Janus though.
https://www.facebook.com/janusband