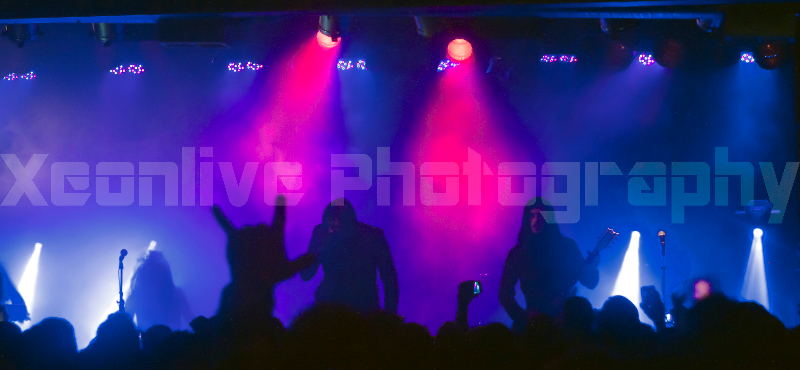 The Infamous Tour
made its way to
Bottom Lounge
in Chicago, Illinois this past Thursday evening.  Headlining the sold out event was
Motionless In White
embarking on their first headlining tour.  An all star lineup of supporting bands included
Chelsea Grin, Stick To Your Guns, Upon This Dawning,
and
The Witch Was Right
creating a diverse blend of metal music for the evening. 
Crown The Empire
was originally scheduled to be on the tour, however due to other issues they had to drop off the tour. 
The Witch Was Right
promptly came on board as replacements and
The Infamous Tour
swiftly ventured onwards.
The Witch Was Right started off the show, but due to good old fashioned Chicago traffic jams and the struggle to find parking at the venue due to it being a sold out show, their performance was missed.  Italian heavy metal rockers Upon This Dawning were up next with their multi-faceted and refreshing blend of metal music.  The crowd went wild as Upon This Dawning flailed about the stage with a variety of synchronized jumps and spins.  By far the highlight of their performance was the band's cover of Carly Rae Jepsen's "Call Me Maybe" which had the majority of the venue singing along word for word.  Upon This Dawning have just came to the U.S. for the first time this past October to release their debut album, "To Keep Us Safe" on Fearless Records.  They seem to be making quite a name for themselves embarking on multiple U.S. tours with major bands and gaining a plethora of fans everywhere they go.  This same strategy helped them gain a huge following across their homeland of Italy as well as throughout the majority Europe.  With a fresh sound and style compared to the everyday musical repetition these days, Upon This Dawning are carving out a great place for themselves amongst the heavy metal world.  In February the band will be taking part on another U.S. tour supporting I See Stars and surely will be partaking in a many more tours throughout the new year.
Southern California's Stick To Your Guns were next to take the stage.  The band's straight forward style of hardcore music has been helping build their fan base for nearly a decade now.  Throughout their performance lead vocalist Jesse Barnett offered a wide variety of kind and inspirational words to the crowd in between songs.  He kept his messages simple and clear pertaining to the point that everyone needs to learn to get along, we need to take better care of our world, and that the future is in our hands.  The crowd cheered and Stick To Your Guns would jump right into another one of their many songs.  Fans were treated to new material from their latest release "Diamond" on Sumerian Records as well as plenty of older songs from their prior albums.  Stick To Your Guns will be on tour supporting Hatebreed and others starting in January, and also just announced they will be on the Van's Warped Tour this summer.
Following up Stick To Your Guns was Salt Lake City, Utah's deathcore sensation Chelsea Grin who brought their diverse stylings of death metal, hardcore, and more.  Definitely a fan favorite as the venue erupted into screams and a circle pit the moment these guys took the stage.  Lead vocalist Alex Koehler immediately addressed the crowd about the fact that he was feeling terribly ill after their first song, but was going to continue on and put on the best set he possibly could.  Although it was visually noticeable that Koehler was not feeling well, his screams seemed to tell a different story.  Thankfully he was able to maintain long enough for Chelsea Grin to put on a brutal set.  The tight knit three guitar lineup in the band helps to define their crisp and heavy sound that sets them apart from other bands.  Fans went nuts between crowd surfing and moshing as Chelsea Grin put on a fantastic performance sure to be remembered.  So far the band has announced a spring European tour with Emmure and others leaving any upcoming U.S. tour plans unannounced as of now.
As the lights went out, fog machines kicked on, and massive laser lights powered on Motionless In White ran onto the stage wasting very little time breaking into their extremely heavy and entertaining live show.  Lead singer Chris Motionless was adorned in his signature suit that fans have certainly been seeing a lot of him in lately.  Motionless In White is on tour in support of the recent release of their second album "Infamous" on Fearless Records, which the tour was also named after.  Both the tour and album have been receiving a huge response across the country proving that Motionless In White are a force to be reckoned with that show no signs of slowing down.  Fans were treated to a mixture of both old and new songs as well as a surreal visual display onstage.  The band's gothic attire combined with the intense fog and lasers gave fans a truly memorable performance.  With this being Motionless In White's first headlining tour the sky is seemingly the limit when it comes to the potential for the band and their tours in the coming years.  The band will be taking off to Europe in January supporting Asking Alexandria and others on their European Tour.
The Infamous Tour was a huge success as Chicago was just one of many sold out stops for the tour.  The Witch Was Right, Upon This Dawning, Stick To Your Guns, Chelsea Grin, and Motionless In White all put on terrific performances in their own respective regards.  The tour brought a good handful of musical diversity together to create a solid night of killer heavy music.  It is always good to see so many groups of fans come together for a performance and have all of them get along to make for a great evening of unique music.  Be sure to check each band's respective website to stay updated with their latest news, tour info, and more as each one of these bands puts on a stand out performance that will certainly appeal to metal fans of all tastes and ages.
https://www.facebook.com/motionlessinwhite
https://www.facebook.com/ChelseaGrinMetal
https://www.facebook.com/uponthisdawning
https://www.facebook.com/thewitchwasright