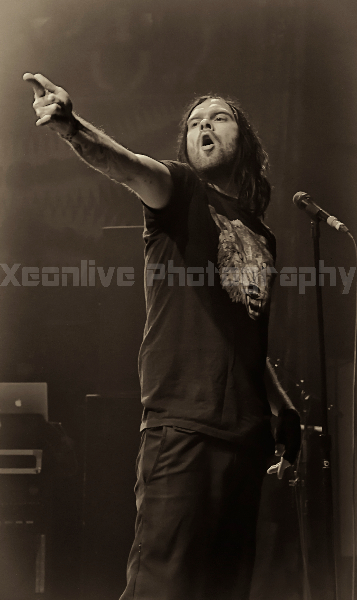 For over a decade the Take Action Tour has compiled some of the greatest bands around and put them on a massive tour together to raise money and social awareness for charity. The idea of fusing music and charity together is a beautiful concept in itself as fans are able to experience terrific performances while also knowing that they are giving back to a good cause through purchasing the Take Action compilation albums and tickets.  The Take Action Tour has certainly become well known for its charitable work around the globe and this year's tour was one of their best yet.  The tour partnered up with The It Gets Better Project which is an organization that provides social awareness and help for gay and lesbian teens that are being bullied for their lifestyle.
This year the Take Action Tour is being headlined by The Used with We Came As Romans, Crown The Empire, and MindFlow as the supporting bands.  An all star lineup of terrific bands made a for a fantastic evening as the tour came to the House of Blues in Chicago, Illinois this past Wednesday evening.  Before the show had even begun, The Used frontman Bert McCracken was kind enough to answer a few questions.  While most people would expect rockstars to be nonstop partying before and after the show, McCracken was peacefully sitting at a table on the bus by himself reading a novel with a candle burning next to him. McCracken was very friendly and definitely a down to earth guy with some very great perspective and insights about life in general and much more.  Read on to learn more about The Used lead vocalist Bert McCracken, and be sure to pick up The Used's newly released double-disc "Vulnerable II" that became available nationwide this past Tuesday.
The Take Action Tour this year is supporting yet another great cause that helps so many younger people to find themselves.  Have you ever partnered with The It Gets Better Project before or is this the first time you've collaborated with them?
Bert: This is our first time. We're definitely not new to the idea or The It Gets Better Project in general. They've been around for awhile and we've been aware for awhile.  It's a pleasure to be able to work with them and just get the word out there.  I think the bottom line is we just hope that people can treat other people with respect.
Who first inspired you to become a musician?
Bert: It was Michael Jackson when I was 4 or 5 listening to "Off The Wall" and even Jackson 5 stuff I wanted to sing.
What was it like trying to break onto the music scene in Utah during the early days?
Bert: It was tough man there's not a lot of support for rock and roll in Utah.  Art in general.  We just had to kind of do anything we could and we sent our demos to every single person we could think of sending our demos to.  Getting ourselves out there and going to every show and trying to meet every single person that we could.  It takes a lot, but I think the music speaks for itself.
What has been your biggest challenge as a band?
Bert: I think just adjusting to the reality of our life.  Half of our life we sacrifice for our art.  It's an amazing thing that we get to do and we're very fortunate that we do what we do.  At the same time it's a lot more than people might think to try to have a real life and a family at home and be away from them for more than half the time.  It's worth it in the end for this music.  Just being able to touch and inspire one person alone is worth it for me.  Just one I'm just going for one throughout the entire 13 years. (laughter)

Did you ever think The Used would be this successful when you were first starting out?
Bert: I guess I'd say yeah.  I've always been very confident, some would say cocky.  Our idea of succeeding was just simply playing Warped Tour.  We felt that after we had played on Warped Tour we had made it. (laughter)  Our definition of success is maybe a little bit different from other people.  We never wanted to be the biggest band in the world, or even famous for that matter.
Do you ever find yourselves bored or stressed while touring?
Bert: Being stressed out with life is just kind of like a normal thing.  To have that kind of anxiety and stress about a show is a good thing.  In my mind that means I still love doing what I do.  Boredom, I think that if you're bored you're f*cking boring.(laughter)
How has your music evolved since you first began playing music together?
Bert: Just being comfortable with the artists that we've become.  We've grown so much as musicians and songwriters.  Our craft has been refined in a way that with experience comes great knowledge.  We've kind of grown into the artists that we are today and still growing.  We'll continuing learning until the end.
Are there any favorite places you like to go to while in Chicago?
Bert: I love Lake Michigan, just chilling out on the beach.  I stayed on Dearborn Street for like 2 months.  Back then I drank so I loved the little bars around the area.  There are also tons of really up and coming chefs.  I think Chicago is a real city as far as cities go.  I like getting out and about when I'm in Chicago.
Through our social media outlets for our website Xeonlive.com, where we do Chicagoland music coverage, we put an announcement out there saying that for fans of The Used we were taking questions for an upcoming interview with them.
Bert: Awesome.
A fan club for you guys responded based out of South America said "We all want to know if they'll come to Peru someday…at least they would know then that there are a lot of people who really want to see them playing here!  Please, tell them that we love them so much and that their music has inspired us a lot!"
Bert: That's awesome man.  We hope to come down really soon.  We tried to schedule something last time we were down there with Evanesance, but it just kind of all fell through last minute.  My little brother lived in Puno, Peru for two years.  I'm really anxious to get down there and see it.  We are well aware of our South American fans and the support and love that we get from them.  They are insane about the love that they all feel for The Used, it's really awesome.
Is there anyone you would like to thank, acknowledge, future plans, or any last words you'd like to share with your fans?
Bert: The people that make this thing possible and made our dreams come true for the past thirteen years are the real, true, hardcore, and dedicated Used fans.  Thank you for coming with us on this journey and not really expecting too much of us, but appreciating what we do give.  What we try to accomplish with our art is mostly a positive thing so thanks for all the love and support.
http://www.HopelessRecords.com
https://www.facebook.com/TheUsed
https://www.facebook.com/HopelessRecords
http://www.twitter.com/WeAreTheUsed
http://www.twitter.com/HopelessRecords