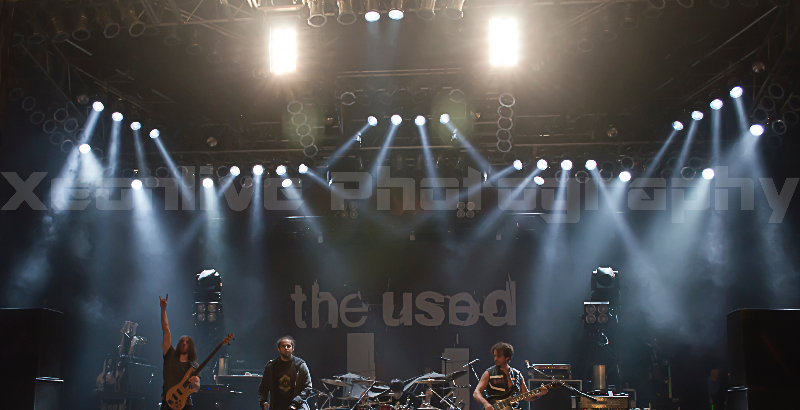 For over a decade the Take Action Tour has compiled some of the greatest bands around and put them on a massive tour together to raise money and social awareness for charity.  The idea of fusing music and charity together is a beautiful concept in itself as fans are able to experience terrific performances while also knowing that they are giving back to a good cause through purchasing the Take Action compilation albums and tickets.  The Take Action Tour has certainly become well known for its charitable work around the globe and this year's tour was one of their best yet.  The tour partnered up with The It Gets Better Project which is an organization that provides social awareness and help for gay and lesbian teens that are being bullied for their lifestyle.
This year the Take Action Tour is being headlined by The Used with We Came As Romans, Crown The Empire, and MindFlow as the supporting bands.  An all star lineup of terrific bands made a for a fantastic evening as the tour came to the House of Blues in Chicago, IL this past Wednesday evening.  Hailing from Brazil, MindFlow were ecstatic to be embarking on another U.S. tour.  The band's infusion of hardcore and metal with Latin and tribal undertones give MindFlow a sound that is truly all their own.  Before their performance lead vocalist Danilo Hebert, drummer and backup vocalist Rafael Pensado, and guitar and backup vocalist Rodrigo Hidalgo sat down to do a quick interview about their history, touring, 2013, and much more.  Read on to learn more about MindFlow the Brazilian quartet whose music is spreading infectiously worldwide.
Who first inspired you to become musicians?
Rafael: I'm sure everyone has different backgrounds.  My story is my neighbor back when I was 6.  Yeah that's my case.
Danilo: My brother had a band and they were needing a bass player so that is how I started to play.  Then a couple friends of mine also had bands looking for bass player.
Rodirigo: For me it was the same thing.  It was a group of friends that were playing covers back in school and they needed a second guitar player so that is how I started.
When and how did MindFlow form?
Rafael: The whole idea started back in 1999.  Rodrigo and myself were living in Australia.  We were playing in different cover bands and we just wanted to have a career out of writing our own original music.  Six months later I met Ricardo in high school back in Brazil.  We started just writing material and performing instrumentally by 2000 because we didn't have a singer back then and we didn't want to wait to go live.  Then in 2003 Danilo joined us and in 2004 we released our first record.
How has your music evolved since you first began playing music together?
Rafael: I would say it evolves each and every record.  In 2004 we made this progressive album.  The following album everybody was much more experimental with difficult parts to play and long songs.  Then on the third record when we worked with Ben Grosse he just took us to the next level.  He would pick a song and say "No, we can make another out of it."  It would have much more energy live.  Since then we focused more on what works best for the band and audience live.  Parts that are more fun to play live and work melodies on.  I think we're making music that works really well for big venues.  We also love the smaller ones of course.  It's a lot of energy put into music.  That's how we make music.
Are there any places you have not toured yet that you really would like to?
Rafael: For myself it would have to be Australia.  I would love to go and play there because the band started there.  For me that would be full circle.
Danilo: Japan as well.
Rodrigo: I think there are a lot of cities and countries we need to go including Europe.  It's always great to play here in the U.S.  The crowd is awesome.
Have there been any challenges you have had to overcome as a band?
Rodrigo: Everyday. (Laughter)
Do you have any other big plans for 2013? 
Rafael: Yeah, we're starting the year with this tour that will finish up in L.A.  Then we'll go back home.  We are writing new material already and we're hoping to have that released some time during second semester.  Between that our management is working on a new summer tour here in the U.S. 2013 will be a good year for us.
Would you like to acknowledge, thank anyone, or any last words?
Rodrigo:  Thank you.  We always try to use social media like any band does, but we have a really cool thing also.  It's an online game that anybody can play.  It's an ARG.  There's a lot of clues through the album and our music.  We have a website, it's called "Follow Your Instinct" where you login and play to try and catch a serial killer.  It's really cool.  We've always been into games.  We would really like to say a message to all of our Chicago fans, "This is our second time playing here and it has always been great.  We are really excited to play here again."
https://www.facebook.com/mindflowband
www.mindflow.com.br/followyourinstinct