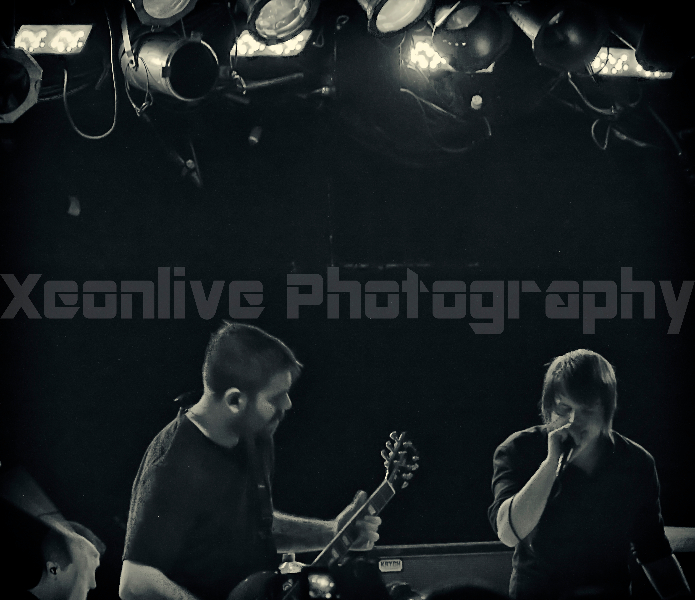 Silverstein
January 26, 2013
Bottom Lounge
Chicago, IL

Ontario, Canada's Silverstein returned to Chicago, Illinois on their "This Is How The Wind Shifts Tour" to promote their latest full length release which is also the same name as the tour.  Along for support were Issues, Secrets, Like Moths To Flames, and Glass Cloud creating a stellar lineup of bands for the tour.  Bottom Lounge was the venue for the evening as a throng of fans piled into the small and intimate setting to get a chance to see some of their favorite bands up close and personal at this sold out show.  Unfortunately due to vehicle issues, Glass Cloud was unable to make it to the venue in time to perform this evening leaving many fans disappointed.  They did arrive just as Silverstein were taking the stage to close out the evening's performances giving Glass Cloud time to sell some merchandise and at least interact with a few of their fans as well.
Starting off the performances for the night was Atlanta, Georgia's Issues who are promoting their debut album "Black Diamonds" on Velocity/Rise Records.  The recently formed group features both of the original Woe Is Me vocalists Tyler Carter and Michael Bohn on vocal duties once again.  The original lineup for Issues had also included brothers Cory and Ben Ferris from Woe Is Me. However, they had both departed Issues shortly before their first tour had begun as well as the recording of their first album this past fall.  Issues came out full force sending the crowd into an immediate frenzy.  Unfortunately, half of the band's set was basically an instrumental performance with a crowd sing-a-long due to the venue having some severe sound issues leaving the vocals inaudible for most of Issues set.  Despite the technical setbacks, Issues put on a great performance rather than becoming distracted or frustrated.  Instead they actively encouraged the crowd to participate with them making it a truly interactive experience for fans.
San Diego, California's Secrets were next to perform.  This young group released their debut album "The Ascent" on Velocity/Rise Records in January 2012 and its received great reviews nationwide.  Since then Secrets have been heavily touring around the world making a name for themselves everywhere they travel.  Unfortunately once again the venue was having sound issues that plagued the vocals leaving the audio going in and out constantly.  The sound crew soon began scrambling to hook up a secondary sound board to run vocals through.  Secrets chose to not let the vocal issues bother them much either continuing on with their set as best as they possibly could.  Fans went wild with plenty of crowd surfing seemingly not bothered much by the technical issues either.  Secrets have made an ever growing name for themselves worldwide in a very short amount of time and show no signs of slowing down anytime soon.
Like Moths To Flames came out in a fury wasting little time at all diving head first into their performance.  The vocal problems were certainly minor now in comparison to what they had been earlier in the evening.  Fans went wild to Like Moths To Flames heavy anthems and growling screams as a plethora of crowd surfing and moshing ensued.  The band performed a variety of tracks from their debut album "When We Don't Exist" on Rise Records.  Like Moths To Flames seemed to be the fan favorite of the night receiving the largest response from the crowd.  The band put on a high energy set that was nonstop from start to finish.
While the vocals issues were nearly remedied by the time Like Moths To Flames took the stage, it had become quite apparent from a photographer's point of view that there was seemingly no one in the venue running the stage lights. From when Issues first came out, through Secrets and Like Moths To Flames as well, never once did any of the lights change color, angle, or anything of the nature.  Typically the lights change sequence, pattern, color, and more providing a variety of lighting.  Instead the lights stayed permanently fixed on orange and red for the first three bands performances.  Accompany the poor lighting with the lack of a photo pit and a large crowd full of active patrons, and the venue became a bit of a photographic nightmare to get any descent shots.  Much to all of the performing bands dismay, a couple of novices were allowed to bring in their cameras along with large aftermarket flashes attached that they fired off toward the stage at will.  Flashes are strictly forbidden when it comes to professional concert photography, let alone bringing an aftermarket flash into the venue.  Tour photographers traveling with and documenting the band's travels and performances are the only ones that are usually allowed to use any sort of aftermarket flash equipment and they typically do so at extreme distances from the stage, for example up in a balcony so that their flash will not blind and distract the performers.  This is a standard rule of thumb and when it is ignored it can make it extremely difficult to get "normal" photos for a great deal of the show since you are just mixed in with the general crowd while shooting, and then to have to witness the venue staff disregarding standard rules for photographic equipment allowed within a performance given how strict venues normally are about all of this really is quite a surprise.  Despite all of this, the opening bands all put on great performances and the majority of fans were ecstatic over all of their sets.
To finish off the night's festivities the tour headliners Silverstein were last to take the stage.  It was just this past August on the "Short Songs Short Tour" that Silverstein had made their debut with new lead guitarist Paul Marc Rousseau who replaced Neil Boshart.  Silverstein's newest album "This Is How The Wind Shifts" was not due to release for another two weeks on Hopeless Records, but the band treated fans to a select few tracks from the album helping to build the anticipation of the upcoming release.  As a special treat for fans of vinyl, Silverstein had vinyl copies of "This Is How The Wind Shifts" for sale before the album's official release.  Silverstein performed a variety of tracks both old and new keeping fans more than entertained with their wide variety of songs.  Amongst the patrons in the sold out show were members of The Devil Wears Prada who were there for Silverstein's performance, as announced by frontman Shane Told.  They were seen happily signing autographs and posing for pictures with fans.
Silverstein has once again successfully proven that while many bands may come and go over the years, they are in it for the long haul, always staying true to their original style.  With over a decade of touring and seven albums under their belts the band has made quite a name for themselves worldwide.  Silverstein's live performance was as tight and on cue as it has ever been to where the lineup change was not even noticeable from a musical standpoint.  Based off the crowd's response to the new material that was performed of off "This Is How The Wind Shifts" Silverstein's latest release is sure to be a hit with fans worldwide.  Do not miss the chance to see this great tour.  Silverstein's  live performance is always exhilarating and never disappoints.  Be sure to follow all of the band's links below to stay informed of their latest news, tour info, and other updates.
https://www.facebook.com/silversteinmusic
https://www.facebook.com/likemoths
https://www.facebook.com/glasscloud
https://www.facebook.com/secretsofficial
https://www.facebook.com/issuesofficial
https://www.facebook.com/hopelessrecords