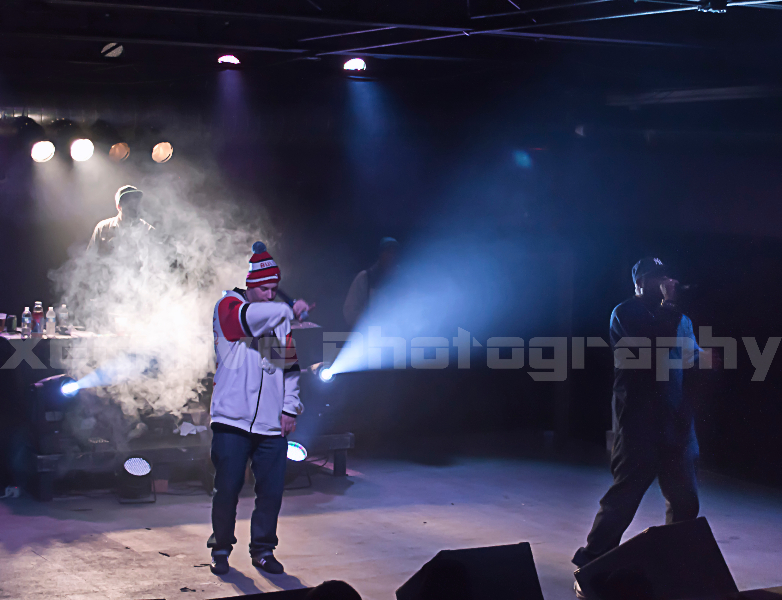 Cappadonna of Wu-Tang Clan came to Another Hole In The Wall in Steger, Illinois on 2-28-13 promoting his latest release "Eyrth, Wynd, and Fyre".  The album is a double disc that came out just two days before the show through RBC Records.  Cappadonna holds nothing back on the album and it provides a breath of fresh air for hip hop fans that are tired of the repetition present within the genre these days.  Once Cappadonna took to the stage this evening every patron in the venue could not help but bob their heads to the smooth flowing rhymes.  Cappadonna performed both old and new tracks while even throwing in some Wu-Tang Clan rhymes as well, and even throwing in his own improv freestyles in between songs.  The crowd went wild for Cappadonna's infectious rhymes as they echoed throughout the building.  The hip hop veteran showed how a true emcee takes control of the stage and puts on a show.
Prior to the show Cappadonna was gracious enough to sit down and give some insight into his music, life, and much more.  For a man to literally walk away from everything he had to reinvent himself, Cappadonna has opened the eyes and minds of a variety of hip hop fans over the years with his approach to life.  In the end he has proven himself to be a humble, straightforward, and truly talented emcee that has been in the game for decades and shows no signs of slowing down.  Cappadonna is a truly down to earth individual and his interview definitely gives some insight as to what the road has been like so far and some big things in the works for the future.  Continue reading to gain a deeper knowledge about the man, the myth, and the legend that is Cappadonna.
How has the tour been going for you so far?
Cappadonna: The tours been going well man, you know what I'm saying.  I'm a week and a half in.  I've been smashing out all of Ohio, Kentucky, and other places.  I've just been running around, doing it, sticking it to them, and poppin it off the way I'm supposed to.  Eyrth, Wynd, and Fyre album just dropped a couple days ago.  I'm getting good reviews and I'm not getting nothing bad. It's a double cd so I feel good about it and I'm real happy with it.
You just released Eyrth, Wynd, and Fyre earlier this week, what inspired you to make it a double disc?
Cappadonna: What inspired me the most is that I have so much to give, and it's like I don't feel that there was a need for me to hold anything back because I still have so much more to give.  I know it's better to give than it is to receive.  That double cd should really kick things forward until I drop this Pillage 2 album coming soon, maybe this September.
Did you ever expect Wu-Tang Clan to become as successful as it has and grow into the worldwide entity that it has become?
Cappadonna: No, not at all.  I didn't expect for anything to manifest to this level and quality that we adhere to right now.  This was just a hobby, just something we did as kids.  I never looked for this kind of stardom or whatever the case may be.  I'm definitely grateful and happy.  We owe it all to the fans for making it a possibility for us to be able to do this.  The one thing that's amazing is that when I was younger I used to always say like yo I wonder what's going to be the next hip hop.  Who's going to be doing it?  It was us and for the last 20 years it's been a remarkable experience.
Who were some of your biggest musical inspirations back when you were first got into hip hop?
Cappadonna: Back from that long it was Sugarhill Gang, LL Cool J, Run DMC, all the greatest.  A lot of guys also from around my way like The Foursome Diesel with the Foursome C's at that time, I always shout em out Phase 3 Party Doctors, Fitting Machine, The Brook Brothers, and all that.  New York is the epitome of hip hop so I didn't have to really listen to the radios, it was all around me.
What does an average day in the life of Cappadonna consist of?
Cappadonna: It's pretty much average.  It consists of a lot of planning, meditating, and strategizing the things I want to do that I think might help me and my career.  Different ideas I think about for my music.  Most of all I just think about how I can be a better father to my kids and be a better provider.  How I can unify the people and keep a good balance to what I'm doing, not too negative and not too positive.  Life is not always positive or negative.  We go through various ups and downs and travels through the days, and I just want to stay grounded in that so that my day to day is focusing on how to make things better for my life, career, and family.
Is it true that you're already working on 'The Pillage 2' with a potential release this fall?
Cappadonna: Yes, I'm definitely looking forward to dropping it.  It's going to for sure come out.  I'm doing some phenomenal music right now.  I'm not holding anything back on this one.  I'm not trying to be religious with this one.  I'm not trying to preach to you, I'm just trying to reach you with it.
Did you audition for a role in RZA's movie 'The Man With The Iron Fists'?
Cappadonna: (laughter) Nah, I didn't do any auditions.  I think RZA already had a determined menu of who he wanted to be in his program.  Maybe on the next go around, if he has more power and say, he'll get us all in a movie.  A Wu-Tang Clan movie, I think that's something everybody has been waiting for.  Not a documentary, but a movie.
Do you have anyone you would like to acknowledge, thank or any last words for your fans?
Cappadonna: For my fans I love all of you, I thank you for your support, and thanks for keeping it real hip hop with me.  Remember no black on black crime out there.  No crime in general.  Lets just all come together and start building a better hip hop environment for our culture.
https://www.facebook.com/pages/Cappadonna