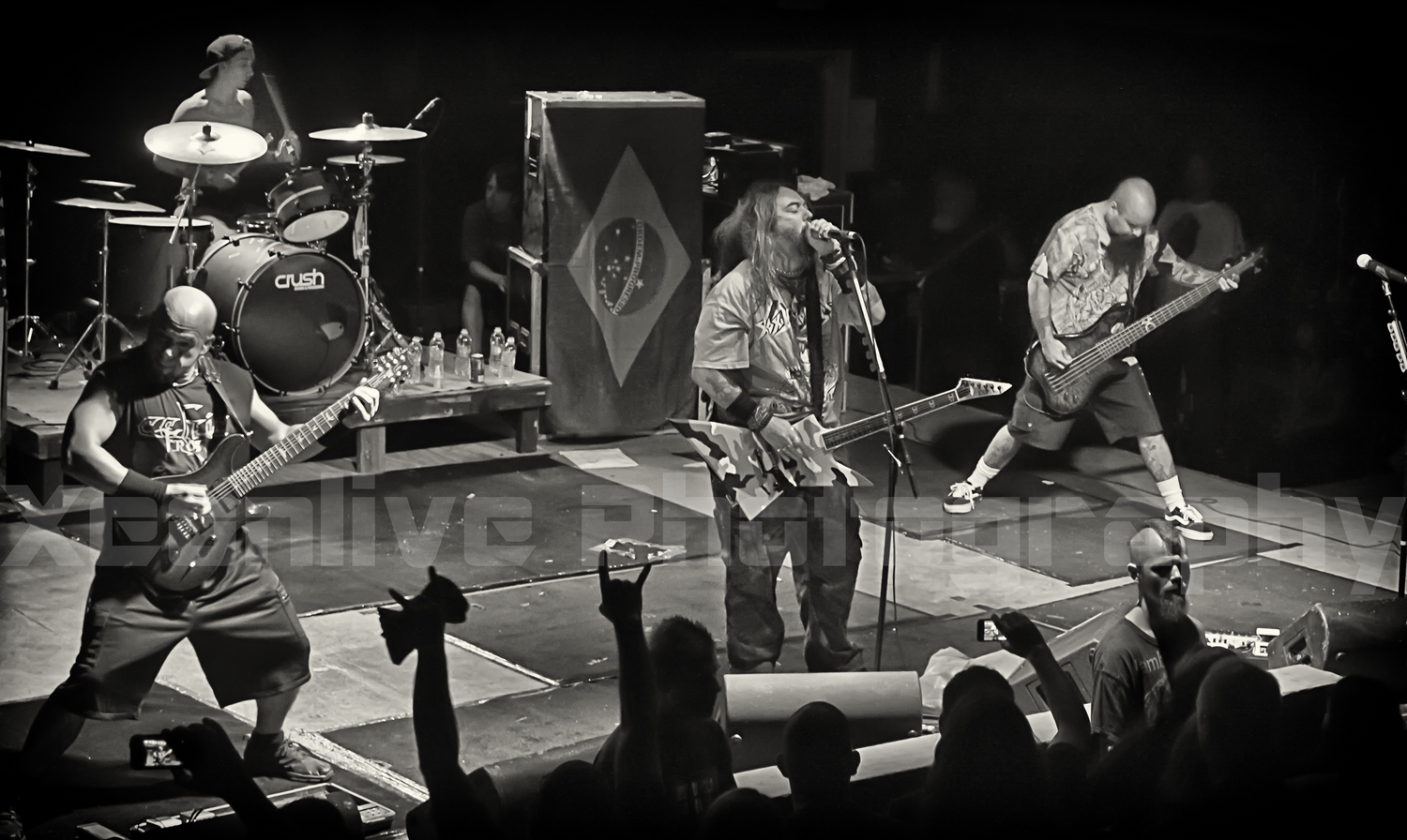 The heavy metal veterans Soulfly recently came to Another Hole In The Wall in Steger, Illinois on August 10.  Along on the tour for support were Incite and Lody Kong which both include one of Soulfly frontman Max Cavalera's sons in each band.  Soulfly first began back in 1997 when Cavalera departed his original band Sepultura that he had founded with his brother Igor Cavalera.  Soulfly has released eight studio albums since the band's inception.  Throughout that time the band has established themselves as a primary figure within the heavy metal music world.  Soulfly's unique incorporation of Brazilian tribal musical influences into their songs has helped to give them a style and sound that is truly all their own.
Another Hole In The Wall found themselves jam packed with fans of all ages and genres on this particular evening that were truly ecstatic to be able to see such a prestigious band like Soulfly within such a small and intimate venue.  The throngs of patrons were highly active for and heavily applauded both opening acts.  Once Soulfly took the stage the energy levels inside skyrocketed and the crowd went wild.  The true highlight for many people was seeing frontman Max Cavalera performing in his true fashion.  As well Cavalera's twenty one year old son Zyon was handling the drumming duties for the evening, and did and excellent job.  Cavalera has held true to his traditional style after all these years, and with his camouflage pants and guitar many of the venue's older patrons were hit with plenty of late 90's nostalgia.  Soulfly put on an intense live set performing a barrage of old and new hits leaving everyone in attendance more than pleased with their performance.
Soulfly are preparing to release their ninth studio album titled "Savages" on September 30 through Nuclear Blast Records.  This will be the first album to feature Zyon Cavalera on the drums.  Based off his live performance things should sound great.  "Savages" will be releasing just before Soulfly will be wrapping up this tour with another tour more than likely in the works.  Overall Incite, Lody Kong, and Soulfly all put on fantastic sets showcasing an entire new style of family blended performances for Max Cavalera and his sons.  It truly is a musical family affair with the Cavalera family that looks to be running strong within the newest generation of Cavalera rockers carrying on the family torch.  Be sure to follow the links below to stay up to date with band's latest news, tour info, and more.
https://www.facebook.com/pages/Soulfly/8616079092‎
https://www.facebook.com/pimp.juice.28