FULL DEVIL JACKET DEBUT NEW VIDEO
VALLEY OF BONES AVAILABLE MARCH 31, 2015
ON TOUR WITH DROWNING POOL & ADRENALINE MOB!
iTUNES PRE ORDER AVAILABLE
NEW YORK – FULL DEVIL JACKET have debuted an all new music video today for their first single and title track from their upcoming LP Valley Of Bones.   "We cut all the footage for 'Valley of Bones' in one day in a little town on the outskirts of our hometown of Jackson, TN.  The video director Rob Nielson at Wired Films did a great job of putting the images together. He combined my artwork with live footage. He did a fantastic job," says vocalist Josh Brown.
3/12 – Daytona Beach, FL @ Daytona Bike Week
3/13 – Melbourne, FL @ County Line Saloon
3/14 – Jacksonville, FL @ Beach Blvd
3/15 – Knoxville, TN @ The International
3/17 – Clarksville, TN @ The Warehouse
3/19 – Baltimore, MD @ Fish Head Cantina
3/20 – Poughkeepsie, NY @ The Chance
3/21 – Sayreville, NJ @ Starland Ballroom
3/22 – Beckley, WV @ Muncheez
3/24 – Pittsburgh, PA @ Altar Bar
3/25 – Kent, OH @ The Outpost
3/26 – Fredericksburg, VA @ Hard Times
3/27 – Lancaster, OH @ Mickey's Bar
3/28 – Flint, MI @ The Machine Shop
3/29 – Racine, WI @ Route 20
3/30 – Minneapolis, MN @ Fine Line Music
4/1 – Laporte, IN @ Johnny's Roadhouse
4/2 – St. Louis, MO @ The Mad Magician
4/3 – Dallas, TX @ Trees
The band will release VALLEY OF BONES on March 31, 2015 via eOne Music, their first full length in over a decade. Produced by Justin Rimer (12 Stones), it's a victorious and impossible to ignore sophomore slab, simultaneously resurrecting and updating the band's hard rock sound. Longtime fans will recognize plenty of signature elements, but this is the Full Devil Jacket of old on steroids.
When asked what went into the new effort, Brown offers, "When we write music, we only write it if it's real. I only sing it if I believe in it. II only write it if I've experienced it. When I listen to some rock n' roll music today, I hear the same important sounding words as the bands I grew up listening to, but I don't hear any conviction. Everything I write about, I've lived." 
The gritty sludge of Down is a great reference point for Valley Of Bones, as well as the dark melody of the mighty Alice In Chains and Modern Rock accessibility of Stone Sour. There's even some old school, throbbing hard rock grit and grime, particularly in songs like "Picturebox Voodoo," a scathing indictment of the mainstream media and a pop culture that obscures designs toward the apocalypse. Full Devil Jacket is a band that had the world at their fingertips, lost it all, and now rises again.
"If I can share with people my struggle and my mistakes and tell them there is hope," says Brown, "even when we stumble, we rise again. That's what it's all about."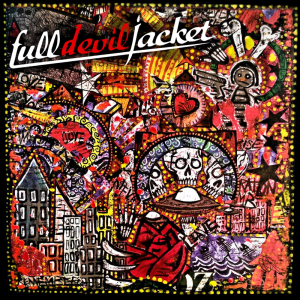 1. Killers
2. Valley Of Bones
3. 7X Down
4. The Moment
5. We Got The Love
6. What if I Say
7. Blood of the Innocent
8. Picturebox Voodoo
9. Paper Crown
10. August
FULL DEVIL JACKET is: Josh Brown-Vocals | Keith Foster – Drums  | Moose Douglass – Bass | Paul Varnick – Guitar