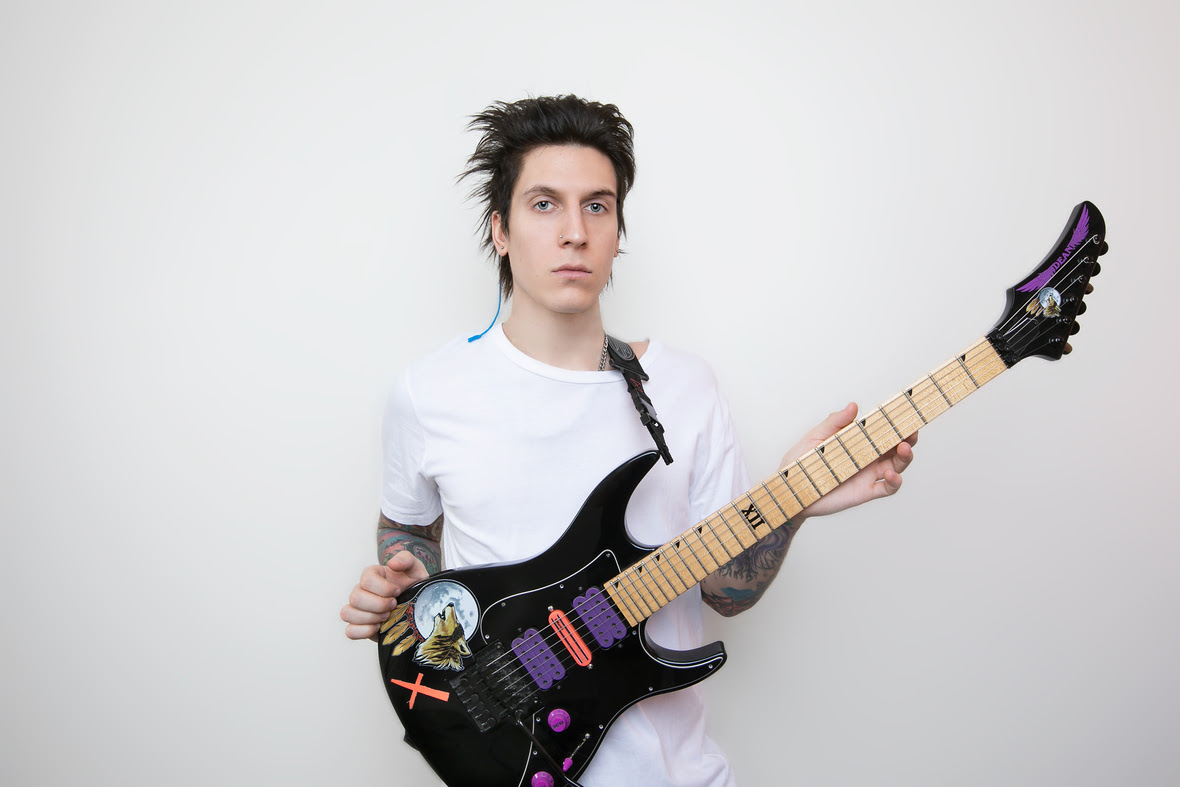 Guitar Virtuoso Jacky Vincent (Cry Venom, ex-Falling In Reverse) Releasing Sophomore Solo LP 'Life Imitating Art' in September
Album To Feature Studio Musicians Skyler Accord (Issues), Greg Cash (Josh Todd & the Conflict), Aaron Stechauner (Rings of Saturn) And Others
'Life Imitating Art' US
Tour

Kicks off

September 4

Check Out New Song "Awakener" on Guitar World
---
Guitar virtuoso Jacky Vincent will release his sophomore solo LP 'Life Imitating Art' this September, which also features studio musicians Skyler Accord (Issues), Greg Cash (Josh Todd & the Conflict) and Aaron Stechauner (Rings of Saturn) among others.
Physical and digital album pre-orders are avaialable at: http://www.jackyvincentmerch.limitedrun.com/.
A play-through video for "Awakener", a track of the album is debuting on Guitar World: https://www.guitarworld.com/artists/jacky-vincent-premieres-new-song-awakener.
Of the track, Jacky says, "This is my new single entitled 'Awakener' from my upcoming album 'Life Imitating Art'! My first solo release in 5 years. I had a blast crossing Metal, Electronic, neo-classical and fusion styles all into one track! Share/repost this track, tag all your friends and crank it up!
In anticipation of the album's release, Jacky will embark on his first solo US Tour, which kicks off on September 4 in Oklahoma City. See dates below.
Tickets for the Life Imitating Art Tour are available at: https://bnds.us/ctpxqe‬.
Vincent's unbelievable, outrageous and over the top guitar style was on full display as a former member of Falling In Reverse (Epitaph Rcords) from 2009-2015. Chart-topping releases such as 'The Drug In Me Is You', 'Fashionably Late' and 'Just Like You' shot Vincent into the mainstream and he was quickly heralded as one of today's top young super shredders.
Legendary Shrapnel Records (responsible for the rise of guitar gods Yngwie Malmsteen, Paul Gilbert and Jason Becker to name a few) named Jacky "one of the worlds greatest new technicians" and released his debut guitar album 'Star X Speed Story' in 2013.
With accolades such as AP Magazine's Guitar Player of the Year 2012, Guitar World's 3rd Best Shredder/Shred Album 2013 and his own Dean signature series guitar under his belt, Vincent moved on to form the metal group Cry Venom.
The virtuosic metal entourage have since released their debut album 'Vanquish The Demon' and kicked off the Loudpark Festival playing the Saitama Super Arena in Japan, warming the stage for metal and rock heavyweights such as Alice Cooper, Meshuggah and Devin Townsend.
With the upcoming release of his sophomore solo album, Jacky shows no signs of slowing down. Catch him live on tour this year, an awe-inspiring show you will not want to miss!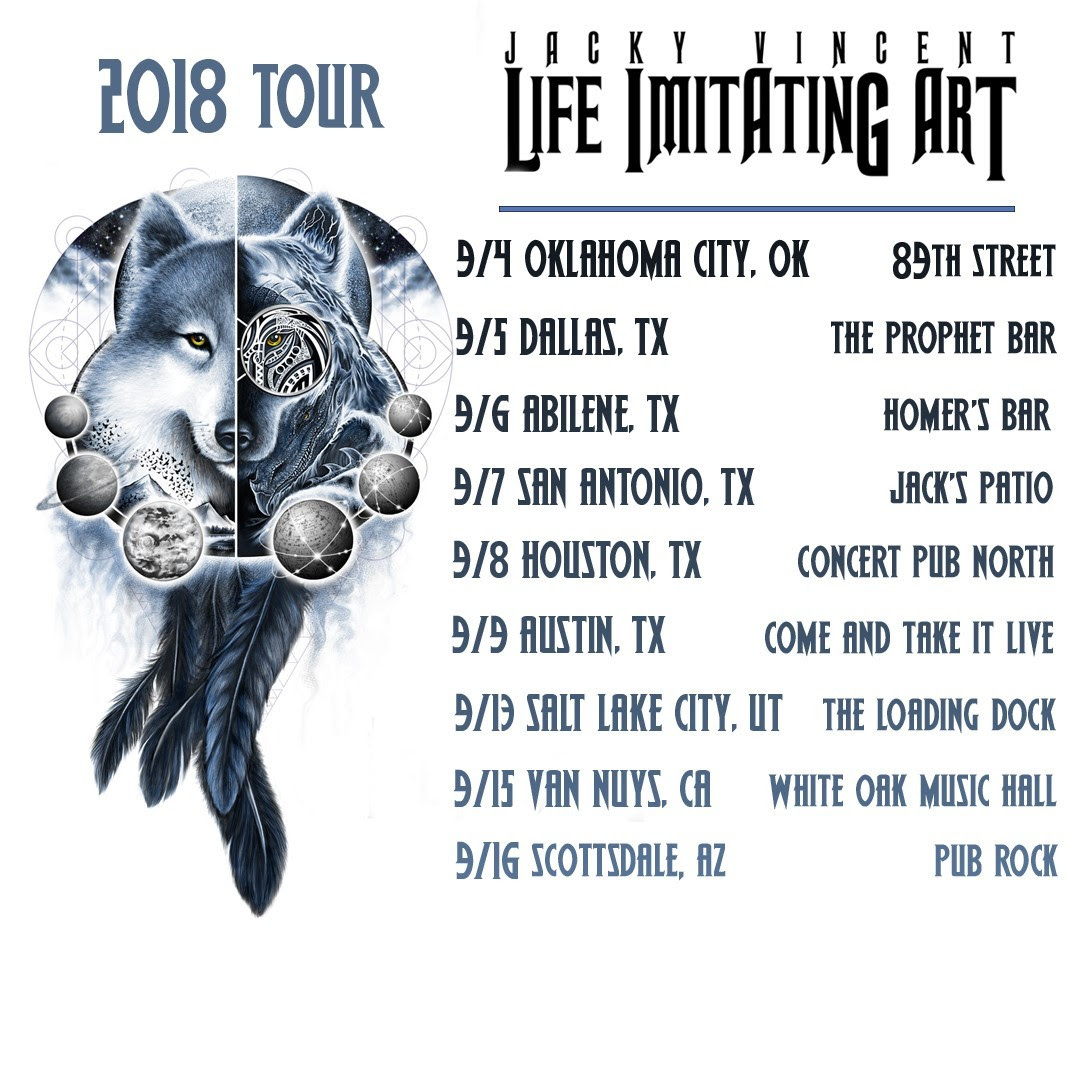 Life Imitating Art Tour:
SEP 04– Oklahoma City, OK @ 89th Street
SEP 05– Dallas, TX @ The Prophet Bar
SEP 06– Abilene, TX @ Homer's Bar
SEP 07– San Antonio, TX @ Jack's Patio
SEP 08– Houston, TX @ Concert Pub North
SEP 09– Austin, TX @ Come And Take It Live
SEP 13– Salt Lake City, UT @ The Loading Dock
SEP 14– Las Vegas, NV @ Beauty Bar
SEP 15– Van Nuys, CA @ White Oak Music Hall
SEP 16– Scottsdale, AZ @ Pub Rock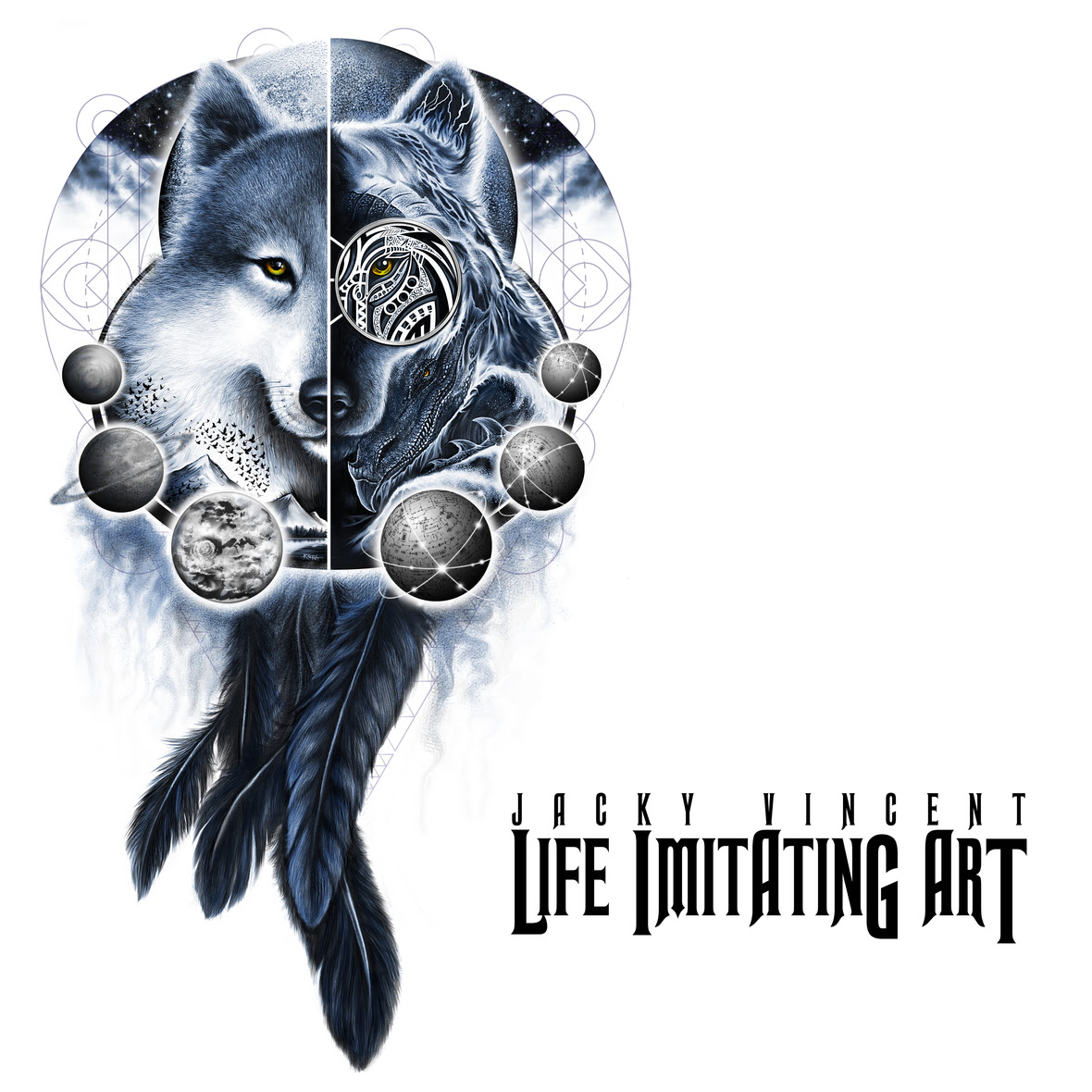 All songs written and arranged by Jacky Vincent
Produced, mixed and mastered by Charles Kallaghan Massabo @ Kallaghan Studios LA www.kallaghanrecords.com
Recorded between August 2017 and June 2018.
Lead guitars recorded in Las Vegas by Jacky Vincent
Guitars and keyboards – Jacky Vincent
Bass – Skyler Accord (Of the band 'Issues') – except for tracks
'Awakener' and 'Run, Don't Look Back' – bass by Greg Cash (from the band 'Josh Todd & the Conflict)
Drums –
Dylan Howard except for the track 'Racetrack' – Drums on Racetrack by Aaron Stechauner (Of the bands 'Rings of Saturn' and 'Interloper'.
Programming – Jacky Vincent and Charles Massabo.
Album cover artwork by Russell Cera
Www.rceracreations.blogspot.com