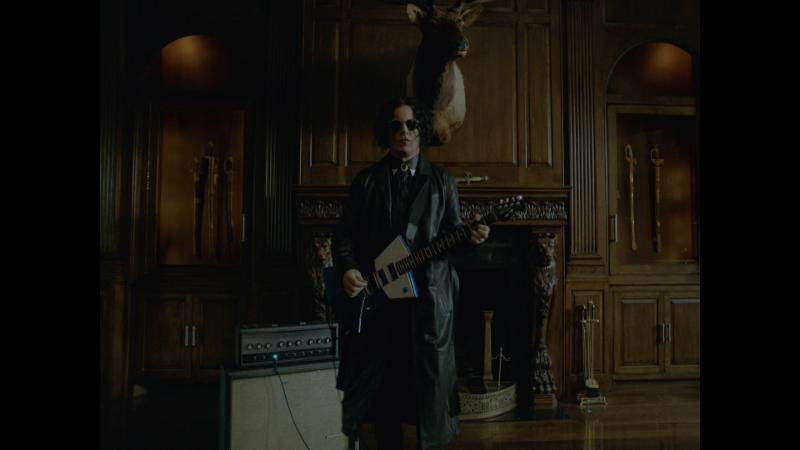 JACK WHITE UNVEILS "CORPORATION" VIDEO
NEW VISUAL PREMIERES TODAY EXCLUSIVELY TIDAL
EPIC WORLD TOUR MARCHES ON THROUGH OCTOBER
---
Jack White has announced today's premiere of "Corporation," a new companion video for one of the undisputed highlight tracks on his acclaimed third solo album, BOARDING HOUSE REACH (Third Man/Columbia). Directed by Jodeb (Imagine Dragons, Underoath), "Corporation" can be viewed now exclusively via global music streaming and entertainment platform, TIDAL. Non-members are eligible for a free 90-day trial of the service on TIDAL.com/JackWhite. Sprint customers with the new Unlimited Plus plan can simply download the TIDAL app and it's free for the duration of their Unlimited Plus subscription, no credit card required.
Recently announced as 2018's biggest selling vinyl album release thus far, BOARDING HOUSE REACH made a momentous debut at #1 on the SoundScan/Billboard 200 upon its March 2018 release – his third consecutive chart-topping debut for a new Jack White solo release. The 12-time GRAMMY® Award-winner's first all-new album in nearly four years, BOARDING HOUSE REACH is available physically and digitally worldwide HERE.
White and Third Man Records recently unveiled details of VAULT PACKAGE #37: JACK WHITE LIVE IN NASHVILLE/LIVE IN DETROIT, showcasing the momentous tour-de-force live sets performed earlier this year at intimate venues in Nashville and Detroit heralding the release of BOARDING HOUSE REACH. Packaged in a die-cut sleeve with peep-in artwork and pressed on lustrous black, beautiful blue and wonderful white vinyl, the three LP set is accompanied by a selection of three glossy, 8 x 10, photos from both performances, shot by White's personal photographer, David Swanson. To top it all off, VAULT PACKAGE #37: JACK WHITE LIVE IN NASHVILLE/LIVE IN DETROIT includes a magnificent Jack White logo flag designed to be flown high and proud at Jack White concerts the world over. Vault subscriptions are open through July 31st via Third Man Records HERE.
Jack White previously partnered with TIDAL for a series of global BOARDING HOUSE REACH listening events earlier this year. The TIDAL artist owner also partnered with TIDAL for a livestream of his 2015 acoustic show in Fargo, North Dakota, as well as a premiere of The Dead Weather's critically acclaimed album, DODGE AND BURN. White is in the midst of his BOARDING HOUSE REACH world tour, with dates currently scheduled in North America and Europe through October. For a full list of dates and tickets, please visit jackwhiteiii.com/tour-dates.
JACK WHITE – LIVE 2018
August 5: Lollapalooza – Chicago, IL *
August 6: The Armory – Minneapolis, MN (SOLD OUT)
August 8: 1st Bank Center – Broomfield, CO (SOLD OUT)
August 9: SaltAir – Salt Lake City, UT
August 11: Veterans Memorial Coliseum – Portland, OR
August 12: Rogers Arena – Vancouver, BC
August 13: WaMu Theater – Seattle, WA (SOLD OUT)
August 15: Bill Graham Civic Auditorium – San Francisco, CA (SOLD OUT)
August 16: Bill Graham Civic Auditorium – San Francisco, CA
August 18: Rabobank Theater – Bakersfield, CA
August 19: Santa Barbara Bowl – Santa Barbara, CA (SOLD OUT)
August 21: Viejas Arena – San Diego, CA
August 22: Comerica Theatre – Phoenix, AZ
August 23: The Chelsea @ The Cosmopolitan – Las Vegas, NV (SOLD OUT)
August 24: The Chelsea @ The Cosmopolitan – Las Vegas, NV
September 15: Municipal Auditorium – Shreveport, LA
September 17: OneOK Field – Tulsa, OK
September 18: Lonestar Amphitheater – Lubbock, TX
September 19: El Paso County Coliseum – El Paso, TX
September 21: Las Vegas, NV – iHeartRadio Music Festival *
September 22: Pilgrimage Music & Cultural Festival – Franklin, TN *
October 1: Adrenaline Stadium – Moscow, Russia
October 3: Palladium Riga – Riga, Latvia (SOLD OUT)
October 4: Siemens Arena – Vilnius, Lithuania
October 6: Gdynia Arena – Gdynia, Poland
October 7: MTP2 – Poznan, Poland
October 9: Torwar – Warsaw, Poland
October 10: Tauron Arena Kraków – Kraków, Poland
October 12: Verti Music Hall – Berlin, Germany
October 13: Zenith – Munich, Germany
October 14: Warsteiner Music Hall – Dortmund, Germany
October 16: Brighton Centre – Brighton, UK
October 17: Birmingham Academy – Birmingham, UK
October 18: Hull Venue – Hull, UK
October 20: Liverpool Space By Echo Arena – Liverpool, UK
October 21: Usher Hall – Edinburgh, UK
* festival performance