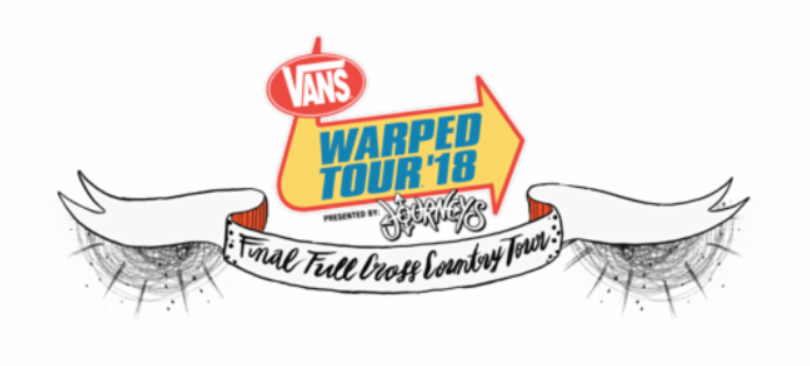 All good things must come to an end is a timeless cliché that can seemingly be applied to pretty much every aspect of life. Just take a look around and see how many different things you see that will truly last "forever" . The cliche's harsh reality can certainly be hard to accept in many aspects. This being no exception, it is sad but true that this summer will be the final cross county run of the Vans Warped Tour. After this 24th summer of embarking upon countless cities nationwide day in and day out, the tour will no longer be doing so. As heartbreaking as this is, there is also a bit of optimism as with every end there is a new beginning. While this is the final cross country run of Vans Warped Tour, tour founder Kevin Lyman has mentioned that there is definitely something already in the works for the tour's 25th anniversary in 2019.
This Saturday, July 21st Vans Warped Tour will descend upon the Hollywood Casino Amphitheatre in Tinley Park for the last time with a stellar lineup. There will be a diverse mix of bands such as 3OH!3, Reel Big Fish, Motionless In White, Beartooth, Movements, Twiztid, and many more. Just a few days ago Falling In Reverse announced that since they were having so much fun they were going to be staying on the tour for a few more weeks which certainly left any and all Chicagoland fans ecstatic as they were originally not scheduled to be on tour any longer than they just had completed.
Falling In Reverse performing in Chicago may not be the only surprise in store for this Saturday. There has been a variety of special guests performances happening all tour in light of this being the final nationwide run. Who knows what could happen this Saturday? Anything is certainly possible and to find you you'll just to have be in Tinley Park at the Hollywood Casino Amphitheatre.
Ultimately time will tell as to what Vans Warped Tour has in store for the Chicagoland area this Saturday. It will be a bittersweet show for many as the lingering notion of what will happen next summer will be embedded in the back of everyone's mind. Nonetheless this being the final run seems all the more reason and motivation for the both the bands and crowd to let loose like they never have before because this is seemingly it. Speak now or forever hold your peace because who the hell knows if you're ever going to have another proper Warped Tour in the traditional sense we've all come to expect, anticipate, love, cherish, and adore summer after summer for the past 24 years now.
Although it's never easy to say goodbye and let go of the things we love, in this instance we really have no choice. It is what it is and if that's not motivation enough to go out an get wild, get weird, or get whatever like you never have before then I truly do not know what is. Vans Warped Tour will be in Tinley Park, Illinois at the Hollywood Casino Amphitheatre this Saturday gates open at 11:00a.m.. At the least be sure to come through and pay your respects to what has without a doubt been one of the greatest summer music festivals to ever exist.
You can buy tickets at Vans Warped Tour or at the venue
We put together some photos from Vans Warped Tour that have been taken over the last few years, feel free to check them out. Be sure to check back for our photos from this upcoming Saturday!